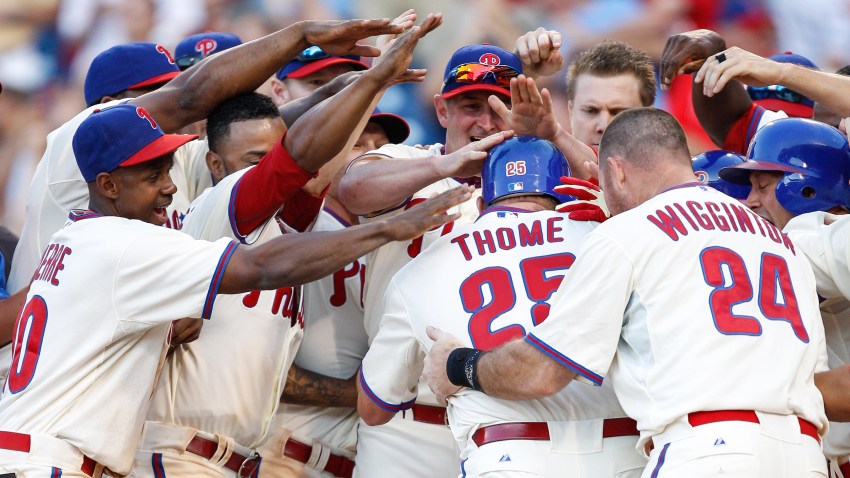 So far, Jonathan Papelbon has been worth every penny for the Phillies.

The closer, who signed a five year contract in the off-season, has given the team everything that they could have hoped for. While most of the bullpen arms have been struggling, Papelbon has been a rock. And aside from a couple of bad appearances in non-save situations, he's been just about perfect this season.

That was, until Saturday's game in Philly. With a two run lead in the ninth, the closer came in to notch his 18th save of the season. It seemed like an easy enough task against the Tampa Bay Rays, but he just couldn't find the zone, and with two outs, he gave up back-to-back RBI singles that knotted the game up at six apiece. He was able to escape the inning without further damage, but it was too little, too late, as the Phillies would need to walk it off if they hoped to win on Saturday.

Despite the fact that it was his first blown save of the season, and that he's been as good as any other closer in the league, he heard the boo birds as he walked off the field, most of which were coming from overserved fans who didn't properly hydrate, and were suffering hallucinations from the heat. Because really, how do you boo Papelbon? I get that you're upset and all, but Cinco Ocho has been awesome.

No matter, whatever damage that was done to Pap's psyche from those boos was undone about five minutes later, when Jim Thome – who has been on a tear as of late (four homers and an OPS north of 1.000 in his last ten) – lifted a 3-2 pitch deep into the stands in left field to give him his first walkoff tater of the year, and more importantly, a win for the Phillies.

It was a game that was fraught with all sorts of craziness – I mean, Juan Pierre hit a home run. Juan Pierre! So I guess it was fitting that Papelbon blew the save, only to be picked up by everyone's favorite slugger, who appears to be making the most of his second tour with the Phillies.

There is plenty of baseball to be played on Sunday, where the Phillies host the Rays in a day-night double header. Cole Hamels is set to take on David Price in the afternoon came, while Cliff Lee will be in search of his first win of the season in the nightcap, where he will oppose Alex Cobb.