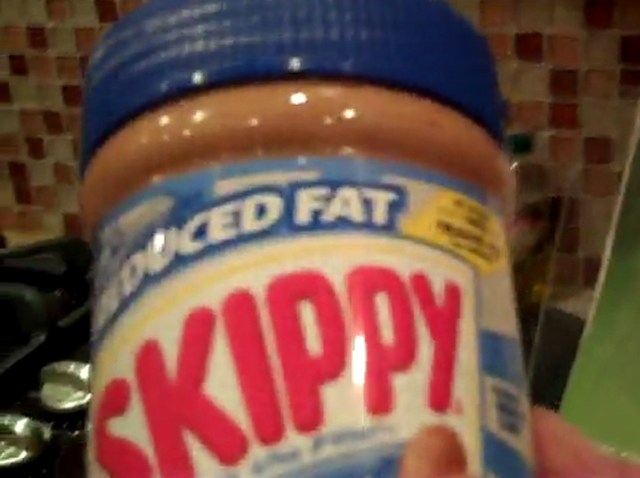 Nothing takes the taste out of peanut butter quite like unrequited love. ~Charlie Brown

Yes, I know. Gross! Peanut Butter and Tuna! But seriously. There was not much else left in the fridge. I didn't go shopping with everyone else before the blizzard because I was covering the blizzard (not asking for pity, just trying to explain the insanity).

Amazingly, I actually found a recipe on line combining the two unlikely ingredients in a sandwich. So, here we go.
In case you're wondering: 3 oz. of tuna mixed with 2 tbsp of mayo. Spread a tablespoon of peanut butter on two slices of lightly toasted bread, put tuna mix in middle of sandwich and enjoy! Now for the taste test.

Meanwhile, I can not repeat what my husband said when I told him that's what I was fixing for dinner. He still isn't home. He must have stopped to get something to eat.
(Sorry about cutting my head off, I'm my own photog tonight) My dog loves tuna fish and was very happy when some of this concoction dropped (accidentally, I swear) on the floor.

Something about this reminded me of some weird tuna casserole. In fact, I was thinking some crushed potato chips would be a good addition to this sandwich. I sense, it's the kind of thing you can eat and it will stay with you a long time. You won't feel the need to eat for awhile.

It's really not gross. I just don't know if I would call it yummy. If rations are low and it's all you've got , it will definitely get you through a blizzard. But next time, I think I'll find a way to get to the grocery store.
Lu Ann Cahn is an Emmy award-winning journalist who's been in the biz for more than 30 years. She's survived motherhood, breast cancer and chasing down bad guys. Now, Lu Ann's trying to complete a year of "firsts." Can she do it? She'll be posting daily here on NBCPhiladelphia.com.