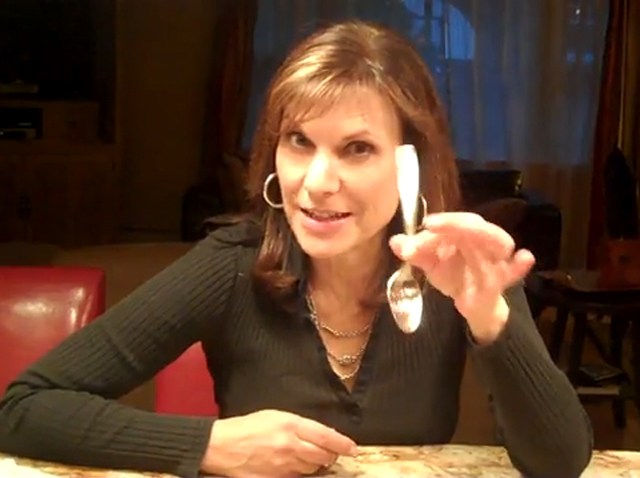 Magic is Might. ~ J.K. Rowling

When I was little, my sisters and I loved to visit with my Great Uncle Bill. Uncle Bill was a whizz with magic tricks. He was always pulling coins out of ears, cards would pop out of pockets, scarves might come streaming out of his nose. We loved him and he loved entertaining and amazing us.

"Uncle Bill," we'd squeal ,laughing and jumping up and down, crying "do another, another!" Uncle Bill always had another trick until we were bleary eyed and exhausted trying to figure out how he did it. Then we were sent off to bed happy and glad there was real magic in the world and it was in Uncle Bill's hands.

I always wanted to learn magic tricks but never had the patience. This is my sad little first attempt. It's called the bent spoon trick. If you kind of squint and use your imagination , you might see the hint of a magic trick here.
My husband didn't think it was half as amusing as I did. So, here we go, one more time.
Awww. Come on. That wasn't so bad! I think everyone should have at least one magic trick up their sleeves. And every kid should have an Uncle Bill in their lives.
Lu Ann Cahn is an Emmy award-winning journalist who's been in the biz for more than 30 years. She's survived motherhood, breast cancer and chasing down bad guys. Now, Lu Ann's trying to complete a year of "firsts." Can she do it? She'll be posting daily here on NBCPhiladelphia.com.