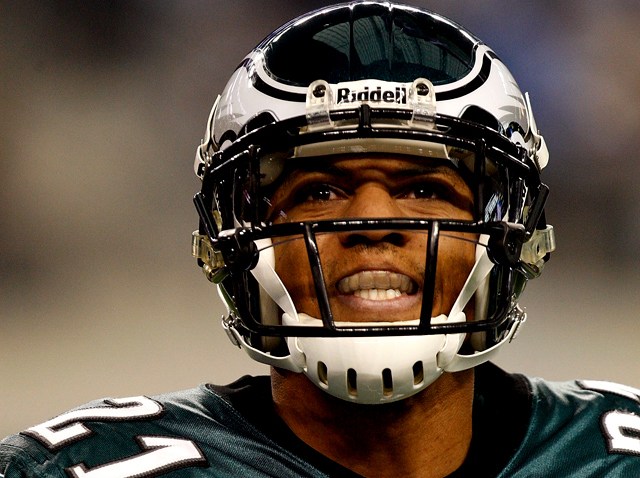 Just a year and a half ago cornerback Joselio Hanson signed a five-year contract to remain with the Eagles through the 2013 season. Hanson had distinguished himself as a great nickel corner and looked like he would be an Eagle for years to come.
However, 2009 didn't go quite to plan. Hanson missed four games for failing a drug test and battled injuries all season long. It was a disappointment.
Even so, Hanson came into this offseason eager to bounce back, and maybe even claim the starting job with Sheldon Brown gone. However, there is a scenario now emerging in which Hanson doesn't even make the team.
Let's break down the cornerback position. Asante Samuel, for better and worse, is your highly paid starting left cornerback. Ellis Hobbs, despite fans' reservations, hasn't relinquished the other starting spot since training camp began.
Hanson's experience makes him a solid option for the first guy off the bench. After all, the Eagles gave him a long-term deal for a reason. But three factors work against him.
First, Hanson's performance last year left a lot to be desired. Who knows if he can rebound from that to become the guy who starred in 2008?
Second, Hanson's maxed out his ceiling. At 29, he's capable of being a top slot corner (if he returns to form) — but that's it. Playing on the outside with the second team in the preseason game against Jacksonville exposed him. Jaguars backup wideout Troy Williamson burned the slower Hanson with a double move for a long touchdown. Are the coaches really comfortable starting him if Samuel or Hobbs goes down?
Finally, there are three young cornerbacks who have the upside that Hanson lacks. Fourth round pick Trevard Lindley is a lock for the roster; he showed great potential with a couple tackles and almost an interception in Friday's game. Macho Harris started at free safety last year as a rookie, so clearly the Eagles think he has talent. Then there's Dimitri Patterson, who looked promising in limited playing time last year and is a special teams star.
The Eagles could keep six guys at the spot, especially if they see Macho as a swing corner-safety guy. But if they only keep five, as they have tended to do in recent years, Hanson should be wary. The Eagles are a young team building for the future. They might be willing to take a short term hit at nickel back if it means grooming the younger players for years to come.