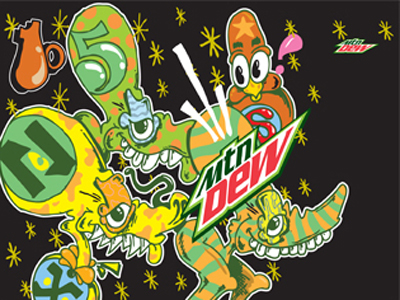 Nocturnal -- beast of the night or a South Street skate shop?
Do the Dew and it's a little of both.
The legendary Philadelphia skate shop just added to its gnarly repertoire, by designing cans.
Mountain Dew cans that is. Nocturnal was one of seven finalists in the King of the Mountain Dew Green Label Art Shop Series contest.
Professional skateboarders Kerry Getz and Mark Brandstetter founded Nocturnal in 2000 and along with artist J. Strickland their can design bunny hopped them into the regional finals and almost landed them smack dab on a can of Dew in 2011.
The contest was inspired by pro skateboarder Paul Rodriguez, and renowned skate artist Don Pendleton. The nationwide contest featured skate shops throughout the country but only one shop could brand their can and win the $10,000 prize.
Alas, 2010 wasn't the year for the cup, er, can for Philadelphia as Cali's Street Science Skate Shop took the honors.
If Philadelphia has anything to say about it, that'll be a West Coast rival knocks off the City of Brotherly Love.
Besides Philadelphia's still talking soda tax anyway.