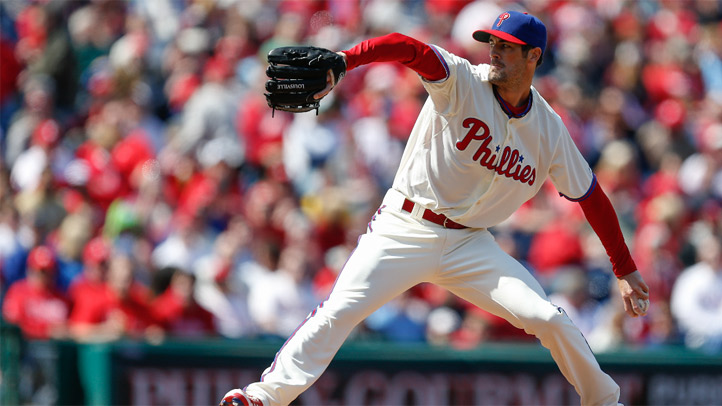 Coming into the home opener on Friday, I took stock of what had been a rough series in Atlanta, the one in which the Phillies would have been swept if not for a dominating performance by Cliff Lee in the finale. I found that the Phillies losing two of their first three games of the season wasn't the worst thing in the world, especially given the circumstances.

There wasn't a lot of positives to take away from that three game set, because neither the starting pitching (Cliff Lee excepted) nor the bullpen really inspired a lot of confidence in anyone. However, one three-game series does not a season make, so I still felt pretty good about the Phillies, and I felt like their season-opening set against the Kansas City Royals would make for a good opportunity for them to bounce back.

At first, I was right. On Friday, the Phillies jumped out to a 4-0 lead behind Kyle Kendrick, and it looked like they would cruise to an easy win to kick off the season at Citizens Bank Park. That was not to be, as the Royals came roaring back with 13 unanswered runs as they ran roughshod all over the Fightins in front of their home fans (many of which had the presence of mind to leave after the seventh inning).

On Saturday, the Phillies were held in check by the Royals pitching, despite a solid start from the newly acquired John Lannan, who allowed three ER in seven innings of work. Although things were bleak for most of the affair, the Phillies pulled one out in the bottom of the ninth, thanks to a walkoff double by Kevin Frandsen, who cleared the bases with two outs to send the Phillies – and the fans – home happy with a 4-3 win.

Sunday's game was a bit of a combination of the games on Friday and Saturday, as the Phillies not only squandered a 4-0 lead (no thanks to Cole Hamels, who allowed 8 ER in 5.2 IP), but also nearly completed their second come-from-behind victory in as many days, thanks to a four-run ninth inning that ended with Erik Kratz striking out with runners on second and third to send the Phillies home with a 9-8 loss.

Much like the Atlanta series, the big blows in this series came thanks to poor starting pitching and the bullpen's inability to prevent the Royals from adding to their lead. On Friday, the bullpen combined to allow eight runs in less than four innings, putting an otherwise winnable game out of reach for an offense that hasn't been awful. The bullpen accounted for one ER on Sunday, but RP Chad Durbin's failure to stop the bleeding when he was brought in for Hamels in the sixth inning resulted in a two-run deficit turning into a four-run deficit.

To be fair, it's not like the Phillies are guaranteed to win those games had their bullpen not mucked everything up, but it certainly does make things quite a bit more difficult when the game is no longer within striking distance. The funny part about all of this is that, two weeks ago, no one would have thought that the bullpen would have been the vulnerable spot of this team. That's not to suggest that they are going to continue to be this bad, just that it's somewhat shocking that they've been so shockingly inept through six games.

If there is one silver lining to all of this, it's that one week of games in April is not likely to wreck the entire season, and that six games worth of performance isn't an accurate indicator as to how the rest of the season is going to play out. There are still quite a few bugs that need to be worked out, and if the Phillies want to avoid being out of the race before it even starts, they need to get it worked out sooner rather than later.