Are you looking for the definitive slice of pizza in Philadelphia? Well, look no further my friends. Lorenzo and Son on 3rd and South Streets is a unique Center City staple, not to mention a pizza lover's dream. The pies are enormous and always piping hot with a nice thin crust and a cheap price tag.
At Lorenzo's you can expect a no-frills experience. From a distance, the pizza shop can be spotted by way of an old fashion sign of a woman holding a coke in one hand and a slice in the other. Upon entering is a long island behind which the cooks are busy preparing fresh pies. There is a small space in the back to stand and eat if the frigid cold of mother nature is in full force or if your just too stupid to be able to eat and walk at the same time. Truthfully, I've tried it myself, but the slices are so damn huge that it's hard to concentrate on balance.
The line at any given time can be out the door, but it moves fast. The best part is the strict nature of Lorenzo and Son. There are signs posted everywhere focused on deterring you from ordering anything but a coke and a slice. No toppings, no special requests, and more importantly, no bitching. One customer made the mistake of asking for pepperoni on his slice and was given a scolding (seriously). Lorenzo's is highly reminiscent of a certain Seinfeld episode involving a soup nazi, but that's all part of the charm.
So if you happen to be on South Street, or even in the center city area, stop by Lorenzo and Son on South. The pizza is delicious and the experience is one of a kind. Just remember to show some respect, or there's "no pizza for you!"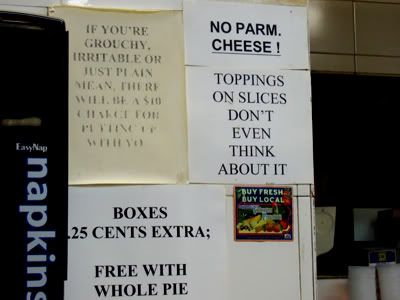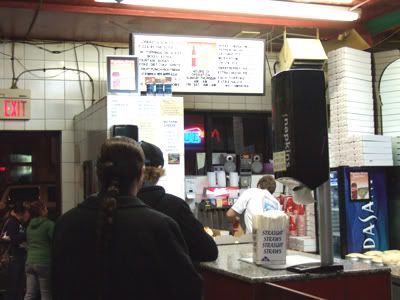 Copyright DigPH - Digphilly