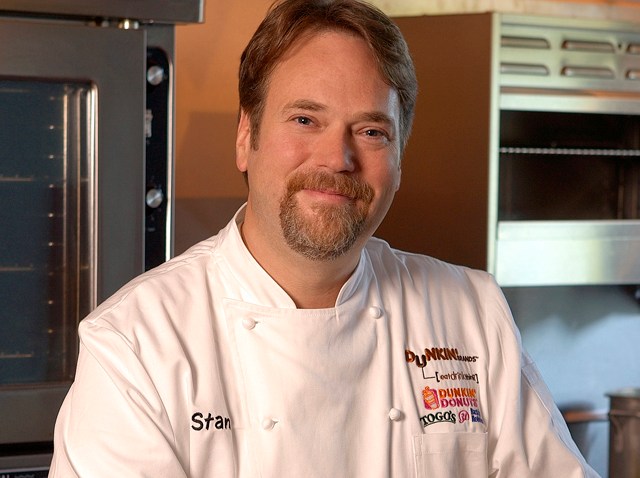 The last place you might expect to find a gourmet chef who prepared the menu for the wedding of Elizabeth Taylor's daughter would be in Dunkin' Donuts' kitchen. But that's exactly where Stan Frankenthaler, executive chef of the coffee conglomerate, has set up shop.
Frankenthaler has been the star chef behind some of Boston's best cuisine and was head chef of his own restaurant, Salamander, named one of Boston's Top Ten Restaurants by Zagat. The three-time James Beard Award nominee has appeared on The Food Network featured in Bon Appetit, Gourmet, Esquire, and Travel & Leisure (among others).
Now, Frankenthaler is taking coffee cuisine to the next level, with new java-inspired rubs and sauces for grilling -- just in time for those sweet summer nights.
What possesses a best-selling author, gourmet Chef and restaurant owner to go to work for a donut company? Somehow it doesn't seem like the natural migration.
Throughout my life and professional career, I've always had a passion for fine coffee and great donuts. I've been living in the northeast for more than 25 years, so Dunkin' Donuts has always had a place in my life. In my professional career I've made all sorts of donuts, from Scandinavian-style to beignets, to home-made cider doughnuts in my restaurant. Every time I've served doughnuts, they have always delighted my customers - and It's no different at Dunkin' Donuts. As Dunkin' Donuts continued to evolve into a worldwide brand, it became very clear that the direction of the menu should involve chefs - and I jumped at the chance. I am a cook at heart, and I love the idea of being able to create a product from scratch in our development kitchens and know that we are eventually going to be able to recreate that product for millions of people across the world.
Ok, so first you make the leap to Dunkin Donuts and then you take us on another detour -- grilling! What inspired you to come up with coffee-infused concoctions for the grill?
Coffee creates not only wonderful beverages, but can also be thought of as a flavorful ingredient and a building block for lots of different kinds of food. Traditionally, we think of coffee being used in desserts and pastries - but it can also be used in really exciting ways in savory items like steaks, chicken, or shrimp. One thing we know about our customers is that they love to weave Dunkin' Donuts into their day wherever they can -- so I thought it would be exciting for home cooks to use their favorite coffee flavor in home recipes. What better way to start off the summer than with some new grilling recipes like a coffee rub for steak or a soy-coffee glaze for chicken or shrimp!

We hear you have some interesting insight into what you call our "strong psychological and sensory connection" to grilling. We have to hear it!
I find that people love to tell their stories through food, and that a lot of families' greatest memories are centered around the table or sharing of a meal. In my family, summers are about running around the backyard with the kids while the grill is going. It always included lots of friends and family, lots of laughing and everyone coming together around the grill. Even after the meal, ending by toasting marshmallows on a stick over the last of the grill's flame. Those kind of happy occasions are what connect us all and create some of the most memorable experiences. In a sense, it turns the grill into an outdoor hearth. Certain foods - and I include barbecue here - can transport you back into the past, where you vividly remember whole conversations, how the day or night felt, who was there with you. The memory trigger from grilling can be felt in a very tangible way.

What are the three items you ALWAYS have in your fridge?
I always have authentic Dijon mustard, chili garlic paste, and since I am originally from Georgia, I need to have a good peach or berry jam (as close to homemade as it can be). All these items are staples in my home cooking.

Three ingredients every home kitchen should have?
I think every home kitchen needs to have one type of real quality oil, like extra virgin olive oil or sesame oil. These are not the oils one would use for cooking, but rather for seasoning. After roasting or grilling an asparagus, finish it with a nice drizzle of the oil. Every kitchen also needs high quality butter with which to cook or bake - or just for spreading on toast! Lastly, I think every kitchen should have kosher salt. It provides great flavor and I find it easier than traditional salt to judge how much I am using. Avid cooks will find kosher salt perfect for rubs and brines and most other home recipes.
Where do you eat when you visit Philly?
Well, like any good visitor to Philadelphia, I have tried both Pat's and Geno's... but I won't tell you which one I favor. The chef in me appreciates Morimoto, Alma de Cuba, and Del Frisco's.