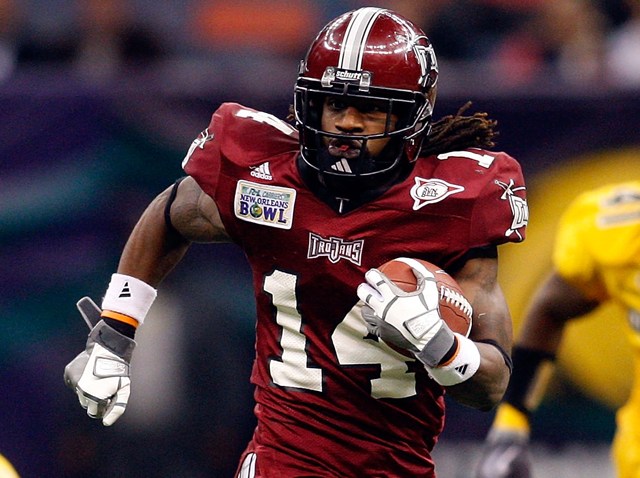 Rookie running back Charles Scott has been banished to Arizona by the Eagles, who acquire rookie cornerback Jorrick Calvin in return. Both teams shed a 6th-round practice squad long shot in return for what they hope is a practice squad shorter shot.
In other words, each was likely going to be cut, so why not? Keeps the paperwork people fresh and nimble-fingered, like Don Draper in a hallway.
A former LSU standout, Scott was drafted as a halfback, but had a miserable pre-season in which it was discovered he couldn't catch a football -- and we all know how much Andy Reid likes his backs to be able to catch. He was eventually shoved behind Leonard Weaver at fullback, where he gathered dust like a doorstop.
Now, Scott has a better chance to stay on board in Arizona, who just watched in horror as Nehemiah Broughton blew out his knee in Chicago. Scott will compete for a roster slot against Reagan Maui'a, a fullback from Hawaii famous for his ability to break through drywall. It's a wonderful world.
What the Iggles get in return is a 5'11" corner who began his career at Mississippi's East Central Community College (Motto: "Central, but slightly to the right"), transferred to Troy as a junior, and missed his entire senior season because he was academically ineligable. He had 76 tackles, 9 pass breakups, and two interceptions as a junior.
Calvin won't be expected to beat out Joselio Hanson, Trevard Lindley, and Dimitri Patterson. But the Eagles can take a flyer, incubate him on the practice squad, and see what happens. No harm done.