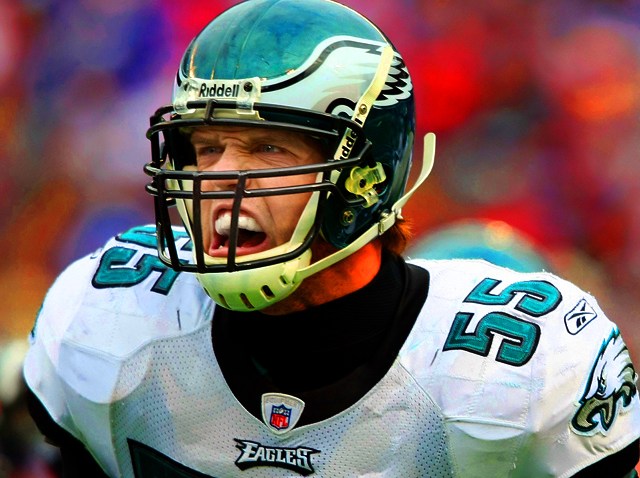 The Eagles quarterback controversy has made headlines all week as the Eagles prepare for a trip to Jacksonville, but defense is where many of the problems have come from early in the season. There is hope, though, which is why our biggest question of the week is:
Can Stewart Bradley, returning from injury, help return the defense to an elite level?
Ironically, we were asking this same question before the season began. Then Bradley was returning from an ACL injury. Back now from a concussion, the 6-foot-4 255-pound linebacker is ready to return to his starting spot in the middle of the defensive formation.
Results without Bradley in the lineup were not pretty. While giving up 27 points to the Aaron Rodgers-led Green Bay offense wasn't awful, allowing 32 from the Shaun Hill-led Lions team was an embarrassment. The Eagles are now dead last in the NFL in points allowed, 25th in total defense, and 23rd at both passing and rushing defense.
Plus, the unit has played without conviction or consistency. The Eagles let Detroit jump out to a quick 17 points, then later, when the offense went up 35-17, the D allowed the Lions back into the game with 15 4th-quarter points. Detroit was one successful two-minute drill away from stealing a victory.
Having Bradley back should be a big boost. He's got the size to attack the line of scrimmage downhill and the speed to cover wide receivers or running backs across the middle. As we know from last season -- and last week -- none of the Eagles back up LBs can replace his leadership or production.
This is Bradley's contract year. If he wants to earn a long term extension, he has to prove not only that he can stay healthy, but also that he's a difference-maker on the football field. That quest begins Sunday against Jacksonville, when Bradley will attempt to resuscitate the lagging Eagles defense.