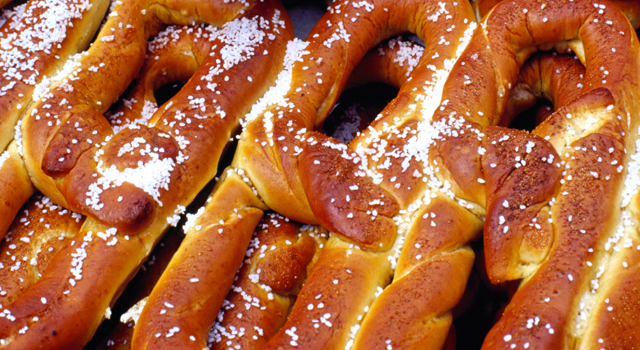 It's National Pretzel Month and what better way to celebrate in America's home of the soft pretzel than by bringing together Philly's best pretzel-makers while giving away free pretzels.
The "Battle of the Soft Pretzels" on Friday will decide which pretzel maker puts the best twist on the traditional Philly treat.
Center City Pretzel Company, Philly Soft Pretzel Factory, Federal Pretzel Baking, the Pretzel Boys, Auntie Anne's and Philadelphia Soft Pretzels will face off in the pretzel challenge between noon and 2 p.m. at the Independence Visitor Center in Old City.
But why the battle?

Pretzels are Philly's favorite snack -- each of us eats more than 20 pounds of pretzels a year on average, according to event organizers. Not even President George Bush's "pretzel choke" decreased the pretzel consumption in our area.
The Tri-State area is considered America's Pretzel Belt, not only because our water makes the soft-pretzels so good -- it's because we have the best bakers around.

The categories up for grabs will be Best Traditional Soft Pretzel, Best Pretzel Topping and Most Interesting Shape. And you'll get to see bakers vie for the title of Fastest Pretzel Twister.
The audience will decide the winners, so it's a lot of free tasting.
And if you're inspired by the "Battle of the Soft Pretzels" you can bake your own pretzels using this great recipe and eat the tasty treats at Pretzel Park in Manayunk.