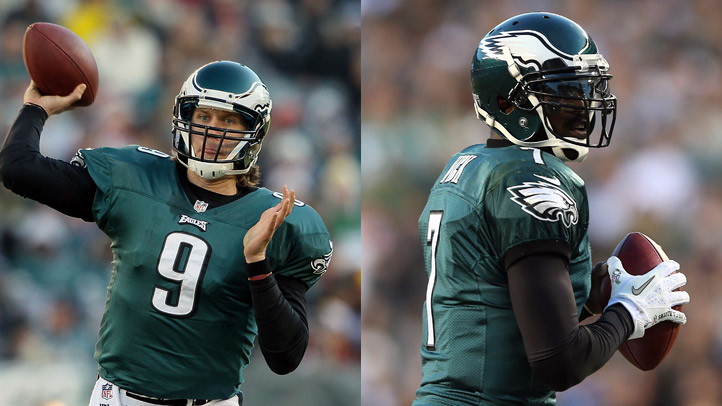 Eagles head coach Andy Reid announced Monday that rookie QB Nick Foles will not play in the last game of the season after suffering a broken hand, effectively ending his season.
Foles, who injured his hand just prior to halftime, stayed in the game and completed 32 of 48 passes for 345 yards and a touchdown. He went 18 of 26 for 188 yards in the second half but came up short on the Birds' final drive including coming up short on a pass to a wide-open Jeremy Maclin in the end zone.
Reid said that Michael Vick, who many thought would never play in an Eagles uniform again, will likely be the starter against the Giants Sunday. Vick has not seen the field since sustaining a concussion in a 28-23 loss to Dallas in Week 10.
Reid said there is "a pretty good chance" Michael Vick will start at quarterback. "That's the direction I'm going in," he added.
But, money -- especially the possibility of guaranteed money -- could keep Vick from the field.
Per Yahoo! Sports' Shutdown Corner:
Vick is due $15.5 million in base salary next season, $3 million of which is guaranteed for injury. If Vick is on the Eagles' roster two days after Super Bowl XLVII, that $3 million will become fully guaranteed. Avoiding that potential contract obligation is believed to be the reason behind the team's previous decisions to not only name Foles the starter for the remainder of the regular season, but to make Vick inactive even after he was medically cleared to play. If Vick were to be injured in the season finale, and could not pass an exit physical or a physical in February, the Eagles would be on the hook for that $3 million, regardless of whether or not Vick remains on the active roster.
If the Eagles decide to keep Vick in bubble wrap, Trent Edwards would get the start. Also, expect some sort of roster move to add an extra QB before Sunday. Mike Kafka, who the Eagles released before the season, could serve that role.