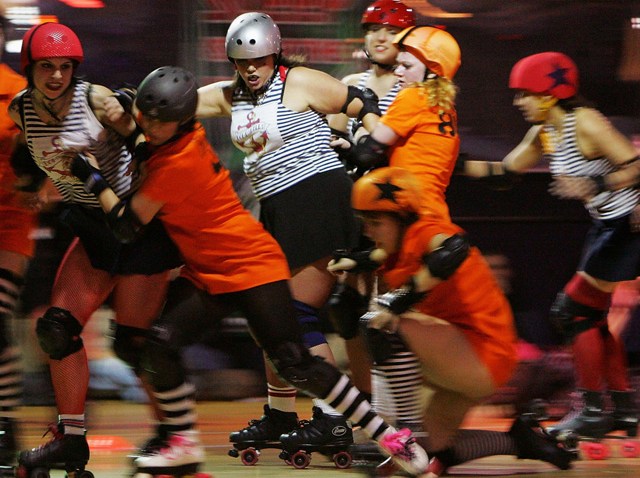 Roller Derby Recruitment: Strap on your skates and head to the Penn Jersey Roller Derby recruitment party this Saturday afternoon. Try out to be the next man or woman on the team and release all that pent up aggression you have built inside. Feel the rush as you race against your other opponents smashing them into the sides or tumbling over them to reach the finish line. If don't think you're ready for the rink yet, have a few refreshments and watch just the show. The Warehouse, 1801 West Indiana Avenue, Philadelphia, Pa. 19132, Free, 12 p.m. – 4 p.m.
Circle of Hope Fashion Show: This Saturday night head into the burbs for a night full of fashion and fun. See the fashions of Nieman Marcus, participate in a silent auction and snack on hors d'oeuvres served with delicious pastas. The fashion show is sponsored by the Blue Bell, North Penn and Springfield Township Rotary Clubs to help benefit three children organizations, CASA (Court Appointed Special Advocates), Super Kids and the Philadelphia Children's Alliance. Admission for the event is served in the form of donation. Presidential Caterers, 2910 Dekalb Pike, Norristown, Pa. 19401, $10-$100, 6 p.m.

Open Bar in Old City: This Saturday, round up your friends and head into Old City for a $20 two-hour open bar at Top Hat. Located right above Lucy's, sip on domestic drafts, all one liquor well drinks, Red Bull drinks, juices and sodas for a the small price. Or just try their $1 PBR cans, $3 Three Olive drinks and $3 Sailor Jerry drinks. Drink, dance and party all night long at Top Hat. Top Hat, 247 Market Street, Philadelphia, Pa. 19106, +21, $20, 9 p.m.
Superbowl Party: This Sunday night head to Whiskey Tango for the ultimate Superbowl party package. With over twenty 50" flatscreen televisions and an eight-foot screen at the side bar, we're sure you'll catch all the game's action. Purchase your tickets in advance for only $25 or at the door for $30 to take advantage of Whiskey Tango's four-hour open bar and dinner buffet. Who could resist beer, food and football for so cheap? Whiskey Tango, 14000 Bustleton Avenue, Philadelphia, Pa. 19116, +21, $25, 6 p.m.
Wayna Live: She's been compared to Jill Scott and Lauryn Hill, now see Ethiopian-born superstar, Wayna, at the International House this Sunday night. She was recently named the "one to watch" by Essence magazine and a "standout on the indie front" by Billboard Magazine. Her single, "Moonlight Rendezvous" is blowing up the charts. Don't think Wayna is an overnight r&b sensation -- she's opened up for such artists such as Common, The Roots, Bobby Valentino and Amerie. Go with a friend and see Wayne for less than $15. International House, 3701 Chestnut Street, Philadelphia, Pa. 19104, $12, 7 p.m.