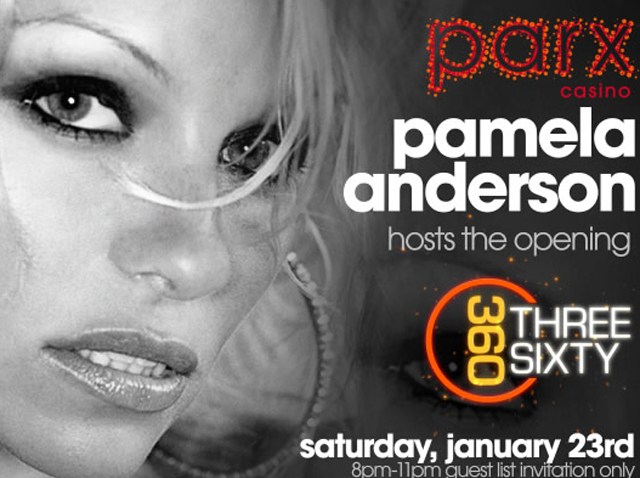 Pam Anderson Hosts New Club: See your favorite Baywatch babe as she hosts the opening of 360, a new nightclub and lounge in the heart of Parx Casino in Bensalem this Saturday. Trckd and Perl Media welcome VIP guests to the pre-party beginning at 8 p.m. The party includes an open bar and a complimentary menu sampling from the steakhouse, Parx Grill. The club officially opens at 11 p.m. to the public. This is a limited access event and guest list confirmation is required to attend. Text the word TRCKD to 77950 to be among the first to know about future events. Parx Casino, 2999 Street Road, Bensalem, Pa. 19021, +21, 8 p.m.

Fosterchild & Open Bar: If you're a rock fan, hear local group, Fosterchild, this Saturday at McFadden's at the Ballpark. They are the house band at 94 WYSP and have a mixed style filled with blues and heavy rock as their influences range from AC/DC, The Cult and Elvis Presley. A $10 open bar will be offered from 9 p.m. until 11 p.m. if you RSVP here. For all those who love a jager bomb or two, they're just $5 or $4 Jager tutors and $3 Jager shots. Party with the Jager girls and enter to win a McFadden's tap machine. McFadden's at the Ballpark, 1 Citizen's Bank Way, Philadelphia, Pa. 19148, +21, Free, 8 p.m.

Fooling April: Philly natives Fooling April will be live with The Tragics and Metropolis at the M-Room this Saturday night. Headliners Fooling April are an American pop rock quartet that has made quite a splash in the music scene this year. Their single "Firefly" has blown up the charts and the group was privileged to share the stage with Dave Matthews, Franz Ferdinand and John Mayer recently. See all three groups for less than 10 bucks this Saturday night. Manhattan Room, 15 West Girard Avenue, Philadelphia, Pa. 19123, +21, $8, 9 p.m.

Tropical Paradise on Ice: If you couldn't escape the cold this winter, don't worry, the tropics are coming to you. Bring your family or your friends and head down to the Blue Cross RiverRink this Sunday as the rink transforms into a tropical paradise on ice. Guests will receive complimentary leis, a hula lesson and enjoy a performance by Aloha Style on the Main Line. In the pavilion, tropical-themed movies will be playing such as "Finding Nemo" and "Blue Hawaii." Get a cabin fever relief this Sunday for only $8. Blue Cross RiverRink, Penn's Landing, Philadelphia, Pa. 19106, $8, 1 p.m.

Restaurant Week: It's Restaurant Week again in Center City Philadelphia. The annual winter discount deal extends itself for a second week this Sunday and is sponsored by TD Bank. Dine at your favorite restaurants for lunch or dinner, $20 and $35 respectively. Each deal offers a three-course meal. Book your reservation today as many restaurants are filling up. Center City, Philadelphia, Pa. 19106.