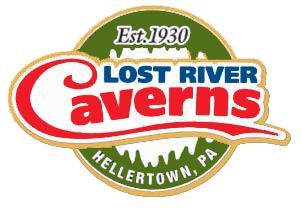 Looking for a fun, family adventure close to home?
Check out Lost River Caverns, nature's underground wonderland in the Lehigh Valley.
Take a 30-40-minute guided, walking tour where you'll discover five picturesque cavern chambers with an abundance of stalactites, stalagmites, and other magical crystal formations, fluorescent minerals and even a Lost River.
Outside, you'll find an 1800-foot nature trail traversing about two acres of woodlands for hiking enthusiasts.
After your spelunking adventure, visit the on-site Gillman Museum and Gem Mill. The museum features rare fossils, unique minerals, gemstones and interesting curiosities, including a 17th century weapons collection. The Gem Mill is a functional reconstruction of a 19th century mining operation.
After you've worked up an appetite, enjoy a family picnic in the shaded Picnic Grove overlooking Silver Creek. For more information, including directions and hours of operation, visit the Lost River Canyons website.
Lost River Caverns
726 Durham Street
Hellertown, Pennsylvania 18055
(610) 838-8767

INSIDER TIPS
What to bring – Wear sensible, non-slip walking shoes to avoid slipping on the wet cavern floor. Since the temperature is a constant 52 degrees underground, you'll want to have sweaters or jackets for everyone in your expedition. Pack a picnic basket with lunch, snacks and bottled water if you plan to stay a while.
Plan accordingly – The nature trail forms a bisected loop that can be rugged and steep. Allow 15 to 20 minutes to hike the trail. The last cavern tour departs one hour before closing.
Cost – Adults $12.00, Children (ages 3 – 12) $7.50