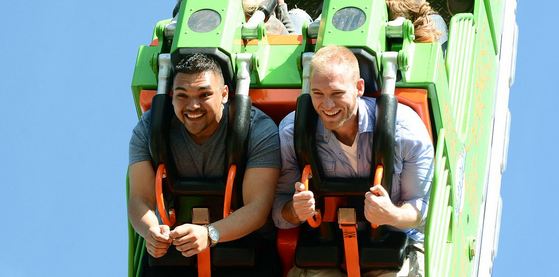 New Jersey's Six Flags Great Adventure plans to build a new roller coaster for 2015.
The theme park announced on Thursday Looping Dragon will join the park's other thrill rides in the park's Golden Kingdom area.
The park says 24 riders sitting in face-off seats will pitch forward and backward pendulum-style until the ride completes a full revolution seven stories in the air. Riders will be suspended upside down and then the ride will reverse direction.
"Looping Dragon is a great addition to our diverse roller coaster collection because it delivers speed and thrills that appeal to both our younger and more experienced thrill-seekers alike," said park president John Fitzgerald.
Great Adventure opened what it calls the world's tallest and fastest drop ride this summer. Zumanjaro: Drop of Doom hoists riders 415 feet in the air and dropped back to the ground at 90 mph.
Looping Dragon is expected to replace Zumanjaro as the world's fastest and tallest ride, according to Six Flags.

Copyright AP - Associated Press