Queue the Christmas music, the massive 2017 Rockefeller Center Christmas tree is being cut down Thursday in Pennsylvania.
Cuts cut down the 75-foot Norway spruce at the home of Jason Perrin in State College, Pennsylvania as onlookers watched Thursday morning. It was then hoisted by a large crane onto a 115-foot long flatbed trailer. It will arrive at the Rockefeller Center in Manhattan on Saturday.
Rockefeller Center Christmas Tree Selected
The tree, which is 50-feet in diameter and weighs between 12 and 13 tons, will be the 85th to grace the Plaza for the annual weeks-long display and the third from Pennsylvania.
After being adorned with more than 50,000 multi-colored lights and crowned with the iconic Swarovski star, the tree will be illuminated for the first time during a live television broadcast on Wednesday, Nov. 29.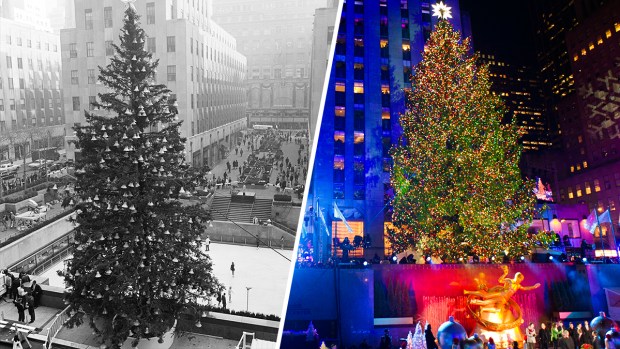 Dazzling Rockefeller Center Christmas Trees From Years Past
It'll be on display until Jan. 7, 2018. It will then be donated to Habitat for Humanity to be transformed into lumber for building homes.
Last year's tree, a 94-foot Norway spruce from Angie and Graig Eichler in Oneonta, was the second largest ever chosen for the holiday celebration.
The first Rockefeller Center Christmas tree was put up in 1931 by workers building the complex during the Great Depression. The first official tree lighting was in 1933.
This story has been corrected to show that this is the 85th Rockefeller Center tree, not the 86th.