Evacuation Order Lifted Near 611 Crash
Rt. 611 is closed between Creamery Rd. and Tohickon Valley Rd. due to an accident involving a small tanker truck carrying propane.
Monday, Sep 24, 2012 | Updated 4:40 PM EDT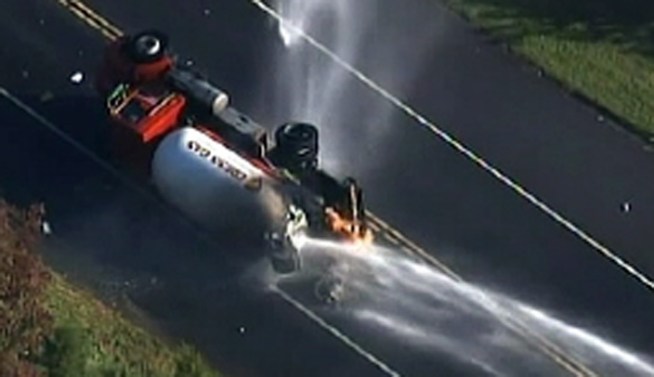 NBC10 Philadelphia - Marisa Brahney
Dozens of residents were evacuated Monday morning after a fiery collision involving a propane truck on Route 611. Residents were allowed to return to their homes around 3 p.m., but the road remains closed.
Residents evacuated Monday morning after an accident on Route 611 were allowed to return home just before 3 p.m.
The evacuation had been ordered for everyone within a mile radius of an overturned tanker truck carrying propane in Tinicum, according to Bucks County officials.
The accident happened around 8 a.m. Monday. Route 611 remains closed in both directions between Creamery Road and Tohickon Valley Road.
No one was injured in the accident.
There's no word on what caused the accident.
All evacuees were temporarily housed at a local church.