$23.8M Contract for Steel Sea Wall in New Jersey
Monday, May 19, 2014 | Updated 8:50 PM EDT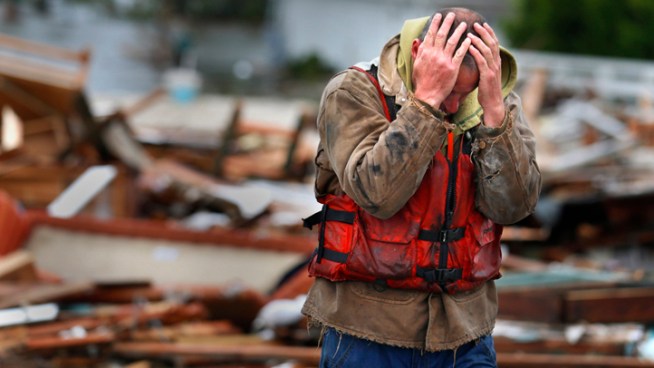 AP
Brian Hajeski, 41, of Brick, N.J., reacts after looking at debris of a home that washed up on to the Mantoloking Bridge the morning after superstorm Sandy rolled through, Tuesday, Oct. 30, 2012, in Mantoloking, N.J. Sandy, the storm that made landfall Monday, caused multiple fatalities, halted mass transit and cut power to more than 6 million homes and businesses.
A northern New Jersey firm will get a $23.8 million contract to build a protective steel sea wall in two of the shore communities hardest hit by Superstorm Sandy.
The state's Environmental Protection Department announced the deal with EIC Associates of Springfield Township on Monday. It calls for the project in Mantoloking and Brick to be completed within six months.

The Federal Highway Administration will pay 80 percent of the project's cost, with the state paying the rest.
The structure will resemble a smaller steel wall erected after the 2012 storm cut a channel through the barrier island in Mantoloking, washing out Route 35 and depositing a house on the Mantoloking Bridge.
A massive emergency repair project was undertaken to rebuild the highway and fortify the area.