What's Not to Like About the Lowest Unemployment Rate in 5 Years?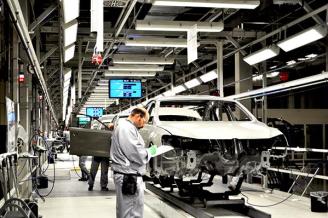 Photo courtesy of Volkswagen of America Inc.
Manufacturing employment, such as at this Volkswagen plant in Tennessee, topped 12 million in November for the first time since April 2009.
The unemployment rate fell to 7 percent, its lowest level in five years, and employers added a better-than-expected 203,000 workers in November.
So, based on Friday's jobs report from the Bureau of Labor Statistics, our economy is back on track and policy makers can start the holidays early, right?
Maybe not. While this was report was good enough to cheer Wall Street -- the Dow Jones Industrial Average jumped 100 points after it was released -- there's still enough bad news in it to prompt calls for action in a variety of areas.
But first the good news.
"It is clear the the recovery has gained traction," said Jason Furman, chairman of Obama's Council of Economic Advisers. Read more about this story on PBJ.com
More NBC10.com stories: