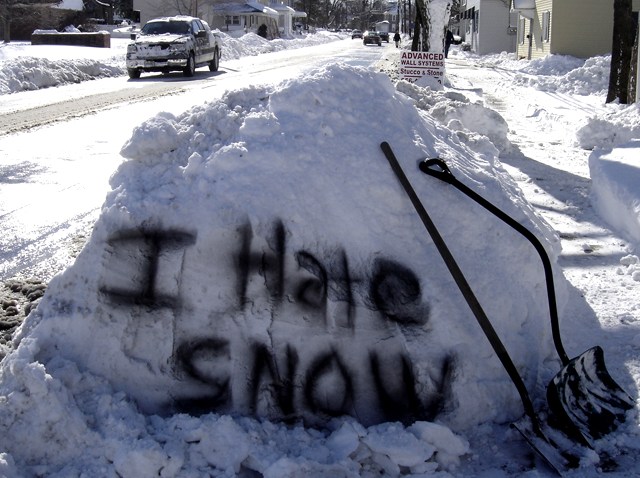 Thursday's snowstorm is now expected to be a two, possibly even a 3-day event.
The rain/snow mix across the area Thursday morning will turn into heavier snowfall at Thursday afternoon as the air gets colder and more moisture moves in. Snow and sustained winds are expected to last through Friday morning.
Philadelphia public and parochial schools are closed and the city is in Snow Emergency mode.
The morning commute wasn't much of a problem aside from a few slippery roads, but the afternoon commute could be treacherous.
This storm could bring up to a foot of snow to the city by the time it's over and because the snow will be wet and heavy, we could see toppled trees and snapped power lines.

"The storm track should be a very unusual one," Schwartz said. " It is developing off the North Carolina coast and should move to the northeast toward Cape Cod."

Here's a timeline of when the storm will intensify:
| | |
| --- | --- |
| TIME | EXPECTED CONDITIONS |
| 5 a.m. - 10 a.m. Thurs. | Slushy Accumulations |
| 10 a.m. - 5 p.m. Thurs. | Snow/Wind Increase |
| 5 p.m. Thurs. - Midnight Friday | Heaviest Snow/Wind |
| Overnight Friday | Heavy Snow/Wind |
| Friday Morning | Snow Becomes Lighter |
Here are the estimated snow totals as of early Thursday morning:
LOCATION
ESTIMATED
TOTALS
Central and Southern Delaware
3 to 6 inches
South Jersey, Wilmington, Del. and some Pa. suburbs
6 to 10 inches
Philadelphia and its suburbs, Central Jersey and Allentown
10 to 15 inches
Lehigh Valley, Trenton and the Poconos
15 to 20 inches
Here's a map:
By late Thursday morning, the wet snow should start slushing up untreated roads and sidewalks. That'll lay the groundwork for the next phase -- accumulation, Glenn says.
Winds will also be a major factor in this storm. They're expected to increase from 10 m.p.h. in the morning to 40 m.p.h. by night with a possibility of gusts clocking 60 m.p.h.
Those winds, coupled with the heavy snow and slushy base equates to a possible Category 5 - Crippling storm for our area for the fourth time this winter.
Officials say they have over 400 staffers ready to hit the roads when the conditions reach critical mass.