What to Know
Areas along the Delaware River and Delaware Bay that aren't normally prone to flooding are seeing major flooding Friday evening due to a confluence of factors.
A First Alert is in effect for the entire Philadelphia region through 11 pm. Friday due to heavy rain and strong winds. Neighborhoods close to the Delaware River and Bay are in the midst of major flooding.
Be sure to keep checking back with the NBC10 First Alert Weather Team on air, on NBC10.com and on our app throughout the day for potentially lifesaving information.
Lee la historia en español aquí.
Parts of Columbus Boulevard in Philadelphia were closed because the Delaware River entered the city Friday night while coast flooding has swamped some areas of the Jersey Shore.
The ramp onto and off of Interstate 95 at Washington Avenue and Columbus Boulevard was closed because of the high water.
A strong east wind began to develop Thursday night ahead of the storm that combined with the heavy rains for the current flooding effect.
There was some flooding around 9 a.m. Friday in Philadelphia, Bucks and Burlington county neighborhoods along the Delaware River. More severe major flooding arrived at 9 p.m. Friday along the Delaware River, Delaware Bay and tributaries.
Major Flooding Poses Biggest Threat
A coastal flood warning is in effect from through 1 a.m. Saturday for Philadelphia, Delaware and lower Bucks counties in Pennsylvania, Gloucester, Mercer, northwestern Burlington and Camden counties in New Jersey and New Castle County in Delaware. Basically, areas along the Delaware River below Trenton.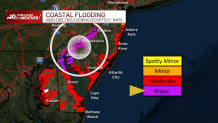 People in back bays along the Jersey Shore, including the Barnegat Bay, should also take precautions for flooding.
Water levels haven't come down enough after the recent nor'easter hit our area and North Jersey, which means they're still elevated. This factor along with a strong wind from the east caused major flooding on Friday night, especially during high tide along the Delaware River, Delaware Bay and back bays.
The floodwater could be a mix of salt and fresh water that not only poses threats to people, but to property. Be sure to move cars before the flooding moves in.
This map here can show you the areas of concern (red and purple dots), many forecast to reach very close to major flood stage or even break major flood stage.
Should the Delaware River get to the estimated 10.3 feet in Philadelphia that would be the highest the river has gotten since 2012.
Tidal flooding already impacted traffic on Columbus Boulevard near Penn's Landing in Philadelphia as well as Route 130 in Gloucester City, New Jersey, on Thursday night.
On Friday morning, water could be seen on roadways in the Bristol, Bucks County, area. Water could also be seen going onto roads along the Delaware in Philadelphia.
Remember to never drive through flooding streets and to turn around, not drown.
Heavy, Windswept Rain for Most Neighborhoods
After more a nuisance rain during the morning, heavier windswept downpours are expected later Friday.
Downpours affected the entire area with the heaviest rain expected in the evening on Friday. The rain also caused some flooding along some creeks and streams.
Track the rain with our live radar:
Gusty Winds Could Knock Out Power
Winds will be strong throughout the area but the strongest gusts will be near the Jersey Shore where gusts reached 60 miles per hour Friday night.
Winds quickly died off after the rain ended around 11 p.m. in almost the entire region from Pennsylvania to the New Jersey and Delaware shores. 
What About Halloween?
Fortunately, the heavy rain will be out of our area by Saturday, giving way for a mild and comfortable Halloween on Sunday. Highs on Sunday will reach the low 60s and drop to the upper 50s around trick-or-treating time.
Stay on top of the latest forecasts and get the latest weather alerts by staying with NBC10 on air and in our app.