The atmosphere over our viewing area began to settle down Thursday night after multiple severe weather alerts, plenty of lightning strikes and swirling clouds that led to a tornado watch.
Neighborhoods to the north of Philadelphia saw more severe weather as another batch of storms moved across Maryland into Delaware and South Jersey.
The National Weather Service on Thursday afternoon also issued a Tornado Watch for our entire viewing area that expired around 10 p.m.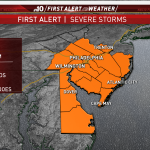 Expect humidity to drop and the sun to shine through the Labor Day holiday weekend.
Be sure to download the NBC10 app and keep checking back with NBC10 News on air for the latest on the severe weather and holiday weekend weather.