What to Know About the Heat
With temps expected in the 90s and feeling like 100 or more, a First Alert is in effect for oppressive heat in the Philadelphia.
The heat advisory stays in effect into Friday afternoon during the heat wave.
Scattered storms Friday aren't expected to be as widespread as those that hit Thursday night.
As we deal with another summer heat wave comes potential danger to your health.
The NBC10 First Alert Weather Team has issued a First Alert for oppressive heat feeling like the triple digits that started Thursday (Aug. 4) and lasts until 8 p.m. on Friday (Aug. 5) for everywhere but the Jersey Shore. People -- especially those with pre-existing health conditions -- should plan to limit time outside, drink plenty of water and take other precautions.
The high on Thursday in Philadelphia was 97, coming close to matching the record of 98 from 1995. Surrounding communities felt the near-record temperatures, too. Humidity and sunshine made it feel from 100 degrees or more. The feels-like temp in Philly Thursday topped out at 108.
Scattered, severe storms and showers moved through the region Thursday evening, in northern and western neighborhoods first, then through Philadelphia and its suburbs.
The NBC Sports Philadelphia broadcast of the Phillies vs. Nationals game caught a lightning strike at Citizens Bank Park shortly before 9 p.m. The rain wound up cutting the Phillies' win short after 5 innings.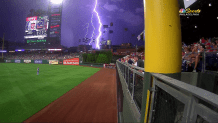 Friday won't be as hot, but still feeling like the triple digits with isolated scattered storms, especially in Delaware and South Jersey. Those thunderstorms later Friday and Friday night are expected to produce downpours and possibly damaging wind, however, it does not look like the storms will be widespread. The Friday storms, however, could be slow moving in certain areas.
The highs this weekend are expected to still get into the upper 80s Saturday and lower 90s Sunday. Should the high hit 90 on Saturday, the heat wave would stretch into next week.
Some isolated showers and storms can't be ruled out either day.
A reminder, even if you're seeking relief at the beach, be sure to drink lots of water, wear plenty of sunscreen and wear sandals to protect yourself from the hot sand.
Be sure to download the NBC10 app for tips on dealing with the heat and to get any severe weather updates sent to your device.
Sign up for our Breaking newsletter to get the most urgent news stories in your inbox.