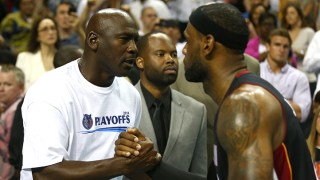 Which basketball player is the best?
A central Pennsylvania man has been charged with aggravated assault and other crimes for allegedly beating another man after they argued whether Michael Jordan or LeBron James is a better basketball player.
The Centre Daily Times reported 22-year-old Daniel Mondelice was first arrested about 3:50 a.m. Saturday after the argument over the Hall of Fame Chicago Bulls star and James, who currently plays for the Cleveland Cavaliers.
Mondelice was released on bond and told not to return to the apartment where the fight occurred and instead went to stay with a woman at another apartment. But police were called again about 6:30 p.m. when Mondelice became argumentative and refused to leave.
Online court records show he remained jailed Monday, unable to post bond in the second case. A defense attorney wasn't listed.
It wasn't clear whether Mondelice was on the side of the Chicago Bulls Hall of Famer or the Cleveland Cavs superstar.