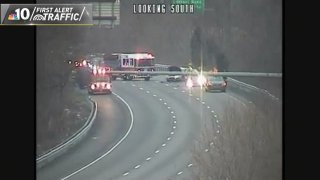 A multi-vehicle crash on Interstate 95 northbound in Bucks County caused drive times to balloon to more than an hour during the Friday morning rush. The delays remained into the after as police investigated and cleared the wreck.
The crash closed I-95 north around the Exit 37 – Pa. Route 132 / Street Road Exit and Exit 40 – Pa. Route 413 / Bristol before 7 a.m.
More than an hour later, the drive time was more than 70 minutes, according to Waze.
Bristol Pike could be used as an alternate route, but drivers were told to expect delays there as well.
The crash, which Pennsylvania State Police called "serious," continued to slow traffic, with delays up to 45 minutes, into the afternoon. The crash finally cleared after 2 p.m.
Police didn't reveal the extent of injuries.