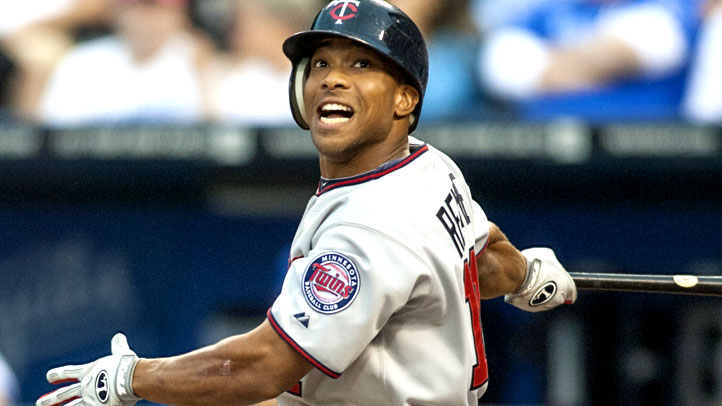 Here at Philthy Stuff we'll be taking a look at the 2013 Phillies and what we can expect from each and every player in the upcoming season as we head towards Spring Training. Next up, Ben Revere.

Despite a handful of roster holes that needed to be filled, it was a rather slow and uneventful off-season. Unlike the last few seasons, Ruben Amaro slow-played his hand, and instead chose to let the market establish itself before making a big splash. His first significant move was to address the vacancy in center field, and it came shortly after two off-season targets, B.J. Upton and Denard Span, were off the market. After Upton signed with the Atlanta Braves and Span got traded to the Washington Nationals, Amaro got himself in the game and traded for outfielder Ben Revere.

Revere is not likely to be more valuable over the course of the season than either Upton or Span, but that doesn't mean that the Phillies aren't in a bad position with him patrolling center field. First, he'll be 24-years-old when the season starts, which gives the Phillies a much needed shot of youth. Second, he'll be cheap, as he made just over $400K with the Minnesota Twins in 2012. Third, he is a defensive wizard (despite having a bad throwing arm). And finally, he can only get better in the batter's box.

I say that, only because Revere is not known for his hitting prowess. In 254 career games, he's got a .278/.319/.323 line, with 22 doubles, 11 triples, and zero home runs. It's not a pretty line, but if you look at this career progression, he has improved his batting average, on-base percentage, and slugging every year he's been in The Show, so it stands to reason that he'll continue to improve as he gets older. He'll not strike fear into the hearts of opposing pitchers, but with his speed (40 SB in 2012), he doesn't need to hit home runs – he only needs to make contact.

His strongest asset, however, is his defense. He's spent the better part of his career patrolling the spacious outfield in Minnesota, so moving to the tinier confines of Citizens Bank Park should be no trouble at all. Good thing, because he figures to share the outfield with Domonic Brown and Darin Ruf, so he'll need to put his defensive skills to the test all season long.

Despite his low offensive output (Bill James projects Revere to have a line of .287/.332/.340), Revere will, at the very least, give the fans a reason to be excited for in 2013. He's not going to do too much with the bat, but he figures to be a breath of young, energetic air for the Phillies next season.