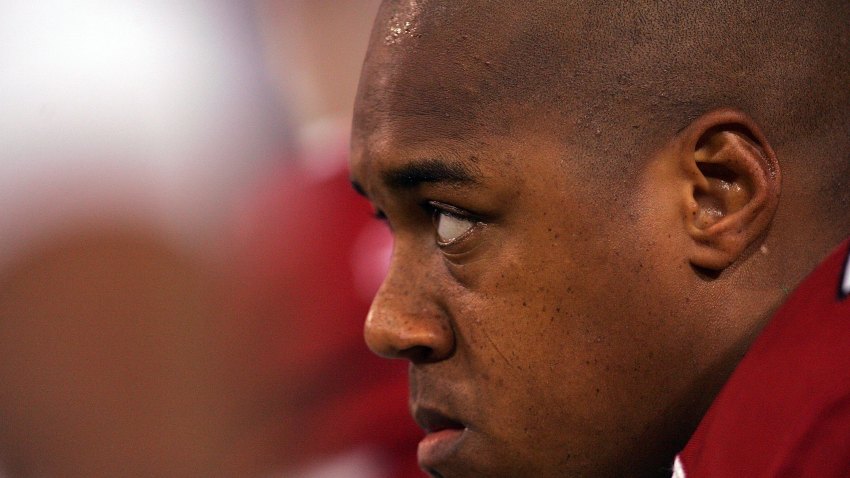 The Eagles offensive line has had some problems protecting the QB -- no matter who is behind center -- so far this season.
In just two games the Eagles line has allowed 12 sacks and 19 quarterback hits -- both league highs.
The makeshift line of C Mike McGlynn, tackles Jason Peters and Winston Justice and guards Nick Cole and Todd Herremans is a total mess and just can't seem to get together.
But don't think offensive coordinator Marty Mornhinweg is ready to throw his giant guys up front under the bus.
"Well, that's what I was talking about when I said we didn't do a couple of things right. We did many things very well up front, many things. There was a few that we didn't do well, and that's not just the line, everybody's involved. So we've got to do better there. Now, you take out a big percentage of plays, and I think the offensive line played well. However, you just can't do that, those other plays are there and we've got to be more consistent."
Marty's right, the team needs to be more consistent. Normally it takes keeping a unit together for a few weeks for that to happen. Unfortunately the Birds haven't had that chance because of injuries and inefficiency. Both Herremans and starting center Jamaal Jackson spent much of training camp rehabbing from injuries. Then Jackson went down with a season-ending injury during the opener. Add in the fact that original starting guard Stacy Andrews was shipped out in favor of Cole and this line looks like a revolving door.
Well it looks like that door could be swinging open again -- this time with Cole the likely guy to be kicked off the line. In Cole's place would go Reggie Wells who was acquired from the Cardinals earlier this month, according to Philly Sports Daily's Tim McManus.
"One way or another, I think you have to get your mind prepared for 60 minutes," Wells told McManus. "Whether you get it or not is another thing."
Well if Wells gets the nod that means the third different offensive line squad in just three games.
And, even if Wells lines up to start the game, that doesn't mean the line is set. King Dunlap has seen action in both games this season after Peters left for stints because of injuries. Peters keeps coming back but how long can that act go on?
Whatever the case, even with Michael Vick behind center, don't expect the sack attack to stop. Yes he is mobile but in his hey day Vick consistently landed in the Top 5 for being sacked the most.
Vick already leads the NFL in times sacked this season -- don't be surprised if he holds onto that distinction.