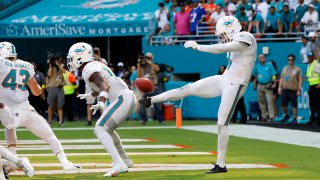 Football is a remarkably physical sport requiring players to utilize every part of their bodies.
In the Buffalo Bills-Miami Dolphins showdown on Sunday, Miami's WR Trent Sherfield took that quite literally, using his bottom to inadvertently block a punt by teammate Thomas Morstead.
The ridiculous incident with 1:35 left in the game caused the ball to go out the rear of the endzone, giving the Bills two points on a safety.
In 14 years, Morestead has only had two blocked punts, with the first one coming in 2011 while he was playing for the New Orleans Saints.
The Dolphins (3-0) went on to hand the Buffalo Bills (2-1) their first loss of the season 21-19.