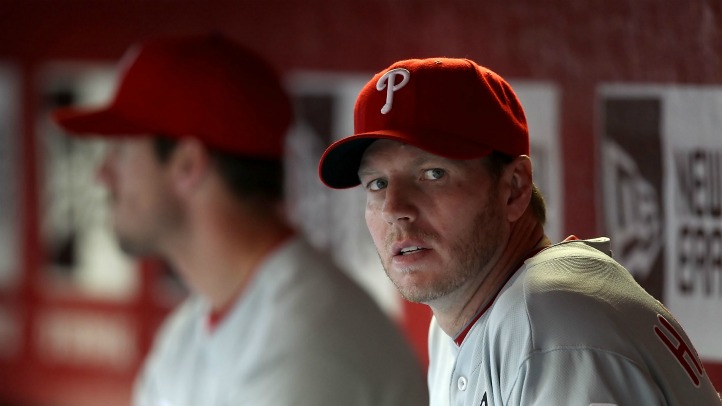 Cliff Lee threw another shutout on Tuesday night, his third straight, and he's going into the record books for authoring the most dominant June pitching performances in almost 70 years of baseball.
The Phillies have allowed the fewest runs of any team in baseball and the non-Lee members of their rotation are almost as good as the guy leading the effort to bring back the dead ball era.

Lee's operating on an insane level right now, but it isn't exactly unexpected. Just about everyone thought the Phils would have the league's top pitching, so it's really just a matter of degrees.
The offense hasn't been quite as impressive. They're right around the middle of the pack in runs, OPS and most of the leading advanced metrics, which isn't awful, but there are clear spots for improvement. The team could use a righty outfield bat to solidify things and no one would complain if the bench was spiffed up a little before the end of July.
Given all of that, Ruben Amaro must be burning up the wires talking to teams looking to deal hitters, right? Not according to Amaro.
"Everyone wants to talk about the offense, but to me it's always about the pitching," Amaro said. "Those are the things that win championships, so if we were able to do things in that area, great."
Well, Lee does have a subpar strikeout rate this month, so you can see where things could get better on the hill.
We kid, we kid. Amaro is likely thinking about upgrading things in the bullpen where Ryan Madson's injury has cost the team their third closer of the year. There's no clear timetable for when he, Jose Contreras or Brad Lidge will be back, which leaves the Phillies pen with a Lehigh Valley tinge as the second half of the season gets underway.
Even with a rotation for the ages, that's a problem, although it isn't necessarily one that will be best solved through the trade market. Antonio Bastardo and Michael Stutes have been good this year so it's worth giving them more time in high leverage roles to see if they can provide a cheap solution to the problem. Roy Oswalt's return will put Kyle Kendrick back into relief duty and you're going to get at least one of those closers back.
If you could get someone who would make a bigger difference than that group, then you go ahead and do it. As a group, relief pitchers are notoriously streaky, though, which makes giving up useful pieces for anything but an elite arm a risky proposition.
Amaro's words make sense, but the best action remains bolstering the lineup.
Copyright FREEL - NBC Local Media