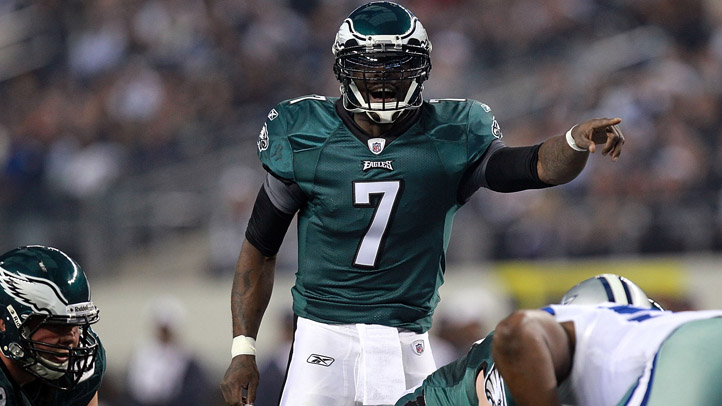 Michael Vick may not think he's injury prone but but the Eagles starting quarterback left the team's first two preseason games with -- you guessed it -- injuries. He won't play in the preseason finale but should be ready for Philly's regular-season opener against the Browns.
And like previous years, when Vick next takes the field he'll be wearing a Kevlar vest to protect his ribs. Except this time the vest will be even larger.
"(The vest is) to give me more protection, just to see what comes out of it," Vick said according to CSNPhillycom. "It's going to be custom-fitted and fitted to protect all across my sternum, all across my ribs. I think it'll be a better feel."
Obviously, the idea is to keep the Eagles' $100 million man upright, but when it comes to Vick there's a huge difference between what should happen and what actually takes place. The organization would love for Vick to take fewer hits and minimize the chance he gets hurt on the hits he does take (by, say, sliding feet first). But Vick's style -- kind of Ben Roethlisberger meets Tim Tebow but 60 pounds lighter -- predisposes him to getting hurt.
For now, however, he's "still sore" but feeling better after bruising his ribs against the Patriots on Aug. 20. And hopefully, the new vest offers another layer of protection. But as coach Andy Reid points out, it all comes back to trying to get Vick to minimize the chances he's even in a situation to get blasted by defenders that can outweigh him by up to 100 pounds.

"He took a good shot," Reid said. "I mean, it wouldn't have mattered what he had on. He took a pretty good shot right there."

Which is why it's imperative the Eagles have a backup quarterback they trust. Because the reality is this: there's a very good chance -- Vick has only played all 16 once in nine NFL seasons -- said backup will play at some point in 2012. On Tuesday, Reid announced that -- at least for now -- rookie third-rounder Nick Foles is the No. 2. behind Vick. The development also means that third-year QB Mike Kafka has fallen somewhere south of the second team though just how far remains unclear.
This much is certain: Kafka, who broke his left hand in the team's first preseason game and hasn't played since, won't see any action in Philly's preseason finale, either.
Reid was vague about any long-term implications, instead reiterating that Foles is Vick's backup "right now … I can't get any clearer than that" (via Philly.com). The coach did say that even without seeing Kafka play "I know him well enough, I think, to be able to make that evaluation."
You'd have to think that Reid would be leaning towards keeping Kafka, who has been on the roster since 2010. The Eagles brought in veteran Trent Edwards this offseason, the Bills former third-round pick who was out of football last season. But Edwards has been solid during the preseason and a strong showing Thursday might be enough to push him past Kafka on the depth chart.
Whatever happens, this we know: Foles is the backup. For now.