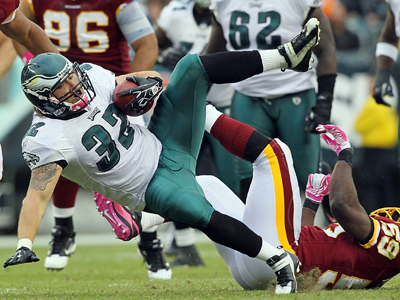 Only five teams in the NFL gave fewer snaps to their fullbacks in 2011 than the Eagles. Owen Schmitt had almost no impact on the offense, registering only 173 snaps -- almost half the snaps of fourth/fifth wide receiver Riley Cooper. That's a sharp decline from 2010, when Schmitt took over for Leonard Weaver after the first game and played in 352 snaps.
Moreover, Schmitt's contribution on the field was limited. He carried the ball four times, ran passing routes 73 times and pass blocked 25 times -- all tasks that could have been better performed by other players. Even his 71 run blocking attempts, just over 4 per game, were at best at replacement level.
Overall, Schmitt is entirely expendable. Either through free agency or the draft, it wouldn't be difficult to upgrade the fullback position.
However, the Eagles have long been uninterested in investing even moderate resources at fullback. Former Pro Bowler Leonard Weaver was an exception, but he was also a great change-of-pace running threat. Without him, Andy Reid has reverted back to ignoring the position. And even more so this year, as he often utilized two tight end formations with Clay Harbor instead of employing Schmitt.
The question is what to do going forward. I have no interest in retaining Schmitt or another player of his caliber. It's a wasted roster spot that provides special teams snaps and poor offensive return.
Instead, I'd like to see the Eagles turn their diminished use of the fullback spot into an asset, by converting the position into something worthwhile. How so? I can think of two ways.
The first would be to find a new version of Weaver, the RB-FB hybrid. Dion Lewis looked like he may be capable of holding down LeSean McCoy's back up spot next year. However, his running style isn't exactly bruising. If the Eagles signed someone like the Chiefs Le'Ron McClain, he could fill that dual role of FB-RB, and potentially free up a roster spot somewhere else. Stanley Havili -- anyone remember him? -- had a redshirt year on the Eagles practice squad. A draft option (taken as the most speculative of recommendations) might be Baylor RB Terrance Ganaway, who happens to be the Jeremiah Trotter's nephew.
The second option would be to look for a more versatile H-Back. Harbor is already filling this hybrid role somewhat for the Eagles, although he's more likely to line up as a wide receiver than as a fullback. With the offense going to more and more two tight end sets, it would be nice to keep a third guy on the roster. Having him do double duty as a part-time fullback could be a great way to get value out of the roster spot. National Football Post's Wes Bunting projects Evan Rodriguez, tight end for Temple, as a late-round H-Back option.
The point is that keeping things as they are wastes a roster spot on a replacement-level player who is outclassed at basically every function he's asked to perform. Even Schmitt's role in the run game is being eclipsed. Why not try something new?