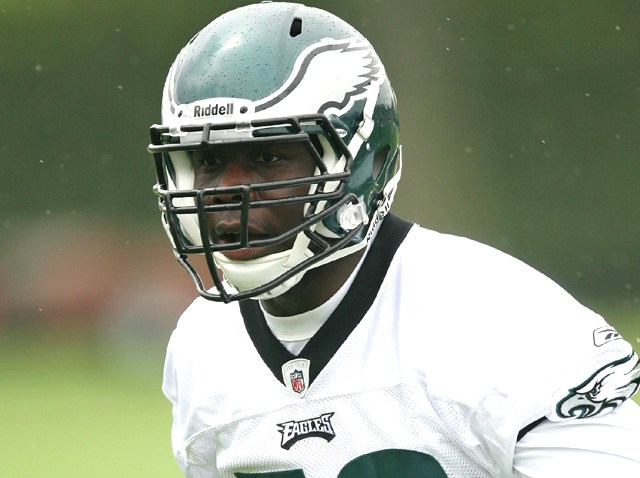 Eagles Linebacker Moise Fokou already had it hard enough. He was a seventh-round pick last year and battled his way onto the roster, and then finally into the starting roster for the last few games, replacing the ineffective and now ex-Eagle Chris Gocong.
Does Fokou have the size of a prototypical strongside linebacker? No. Does he have the pedigree? No. But all offseason defensive coordinator Sean McDermott praised the second-year player's toughness and strength, pronouncing him the starter.
So into training camp we went, with Fokou gaining valuable reps starting next to Stewart Bradley and Ernie Sims. Just a few days after the veterans reported, however, Fokou was pulled from the starting job in favor of the jack-of-all-trades, master-of-none Akeem Jordan, whom McDermott already demoted twice last season (and isn't a quintessential SAM either). Where's Fokou now? Tooling around taking reps at defensive end, of all places.
Competition is good. But handing a young player a job based on his potential, lauding him constantly, and then yanking the job away before he's had adequate time to learn or show his best is folly. Especially now when the team is throwing him into a completely different situation as a "joker" (the linebacker-defensive end hybrid position).
If McDermott believed everything he said about Fokou's readiness and upside, why the quick hook? If McDermott didn't have confidence in Fokou, why build him up with expectations of a starting job? Why not have a full-out competition from the beginning? The answer, according to the coach, is:
"We're just trying to find the best combination of the first three."
The Eagles absolutely need to find the best three linebackers to start each game. But the paradox is that, to some degree, three guys become the best unit not just by being the best individual players, but also by playing side-by-side for practice after practice, game after game. Consistency makes a great starting unit.
Without time to grow into the role, Fokou may never get the chance to earn that consistency.