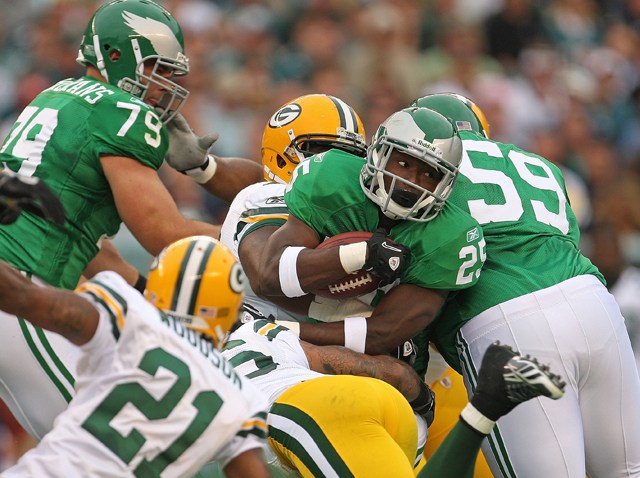 It's that time of week. Time to man up and make your pick for this week's game. Get it right, and you're a millionaire. Get it wrong. And it's back to the late shift washing dishes at Denny's for you. Oh, the things a man will think about when he's blasting the cheese off a Monte Cristo at 4 in the morning. You really get to know yourself when it's just you and a power sprayer. Here we go:

Five of 10 ESPN Experts: Eagles. Actual dissent? These aren't the empty ESPN blowhards I know!

Peter King: Packers 31, Eagles 27. "This will be a great back-and-forth game, right down to the two-minute warning. Anybody's ballgame. I say the Pack D will make two or three plays to win it late."

Michael Silver: Eagles

Pete Prisco (CBS): Packers

AJ Daulerio: Eagles

Index Card I Threw Up In The Air With The Name Of Each Team On Either Side, Seeing Which Team Would Land Face Up: Eagles (Index Card record: 8-8)

The Wife: Eagles

Me: I have to think the Eagles will be prepared for the corner blitz this game. Minnesota crushed them with it, and there's no way that Andy Reid isn't gonna account for it this go round. It's just unfathomable. The Packers would seem to have all the momentum here, which is why it's a good time to bust out the contrarian alert. It's been three games since Michael Vick and DeSean Jackson put on a show. They're overdue. Plus, the Packers can't run the ball for squat. You don't bet against Michael Vick at home in a playoff game. That's a losing proposition. EAGLES 38, PACKERS 30.

Yours in the comments. Playoffs, baby.