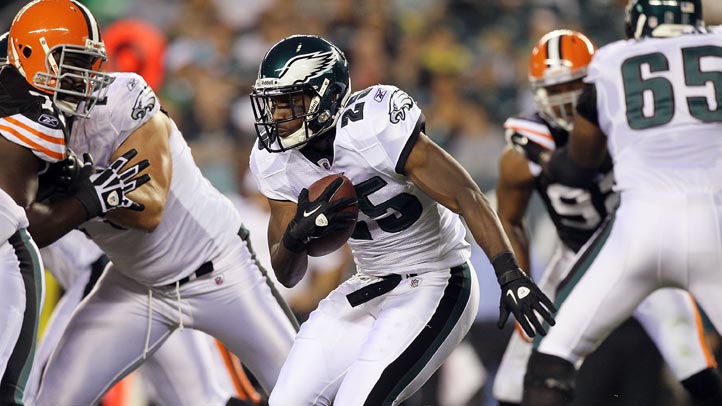 Finally, football is back. Which means it's time fire up the picks for this week's game. First up: the Cleveland Browns. Get it right and enjoy untold riches (think: Jerry Jones with better taste in football teams). Blow it, and it's back to your prison cubicle for another seven days (think: well, you). Off we go…
The Browns managed to win four games last season and I'm still not sure how they did it. They had two first-round picks in April, both of whom will play immediately, and yet no one anywhere thinks they'll be better. That explains the Eagles-heavy picks this week, as well as the +8.5 Vegas line.

ESPN: At some point in the near future it'll be easier to just list who at the World Wide Leader didn't weigh in with expert picks but for now the count is up to 12 humans, a robot and the fans. And all of them like the Eagles. Added bonus: now that Ron Jaworski has been identified as the third wheel in ESPN's two-man Monday Night Football booth, he won't have to feign impartiality and withhold his pick when Philly appears on MNF. Which means that he can pick the Eagles every week.

CBSSports.com: This time, eight humans and one robot came to the same conclusion: Eagles. The Browns secured a moral victory when columnist Clark Judge picked Cleveland to cover. So there's that.

Yahoo Sports: There's a theme developing -- Mike Silver, Jason Cole and Les Carpenter all took the Eagles. So did the Yahoo users.

Gabe, my three-year-old yellow Lab: I labeled two paper plates "Eagles" and "Browns" and placed two identically tasty dog treats on each plate. Standing in metaphorical solidarity with the Dawg Pound, Gabe chose the Browns. (Though, I should qualify: he ate both treats in rapid succession, he just scarfed down the Browns' treat first. Either way: hardcore science at work.)

My one-year-old son: Using the old standard, "If it's good enough for the dog, it's good enough for flesh and blood," I again labeled two plates "Eagles" and "Browns" (yes, they were different plates). I replaced the dog treats with Cheerios. My son went all in on the Eagles. And even when I gave him the Vegas line (that entailed 8.5 Cheerios on the Browns and one Cheerio on the Eagles), he still chose Philly. Hey, he may be young but he knows enough about Cleveland sports to steer clear of sucker bets.

Me: As long as Michael Vick is under center there will always be concerns about his health. But I'd feel confident in the Eagles' chances against the Browns if Trent Edwards was starting and he could only throw left-handed. Plus, Philly's pass rush will give rookie quarterback Brandon Weeden fits, which could mean a big day for the secondary. Eagles, 31-6.