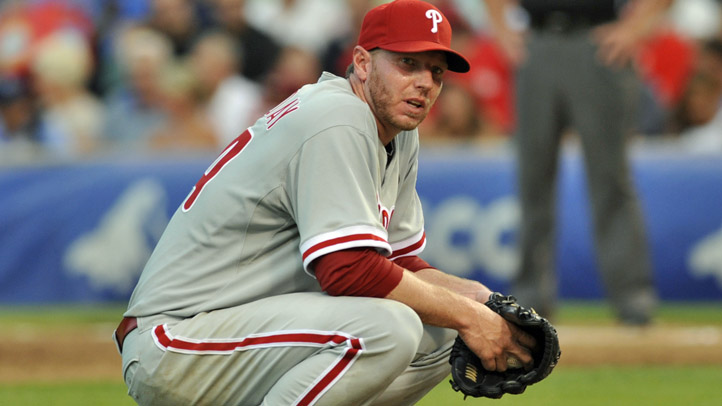 Let's start with the good news. The good news is that Phillies workhorse Roy Halladay is apparently feeling much better after leaving Monday night's Cubs game due to the oppressive heat. Halladay is also expected to make his next start, with no lingering effects from his bad day at the office.
"Once I got back to the hotel, got to sleep, then I felt a lot better."
We've all had days like this, where we've felt a bit off for reasons that escape us and we just have to, like, go lie down for a second. Halladay had his bad day with the heat on Monday, and seems to be past it already and back to his usual self.
Now, here's the annoying part. Halladay's little episode brings to the surface all the terrible worries that come with being a fan of a team that has excellent pitching. Halladay is fifth in the majors in innings pitched and also threw two innings at the All Star Game (curse you, Bruce Bochy. SABOTEUR). He says he's fine. BUT IS HE?! Maybe this is just the first sign of his decline. After all, this isn't the steroid era. Roy is 34-years-old and old pitchers stay old these days. They don't magically come back to life after leaving the Red Sox to win a zillion Cy Young awards thanks to injections of liquefied snake livers.
That's probably not the case, of course. Chances are, Halladay is just fine, like he says. The problem is that his bout with the heat the other night forces us to think about the IDEA of the Phillies rotation experiencing problems with injuries and fatigue just before the stretch run. It's a crummy thing to dwell on when your team is the best in the business, but it happens because fans are fatalistic. It's such a long time from now until October that you just wish you could fast forward to the postseason so you don't have to sit there, day after day, agonizing because you fret that THIS will be the game when one of the four horsemen finally goes down. To sit there knowing that the only thing stopping the Phillies right now is probably the ravages of time and pain. All those nagging thoughts run through your mind when your team is peaking early, and a little bout of heat exhaustion doesn't help.
Halladay is famous for the extreme training he does that makes him so durable throughout the course of the season. And the likelihood of him being there for the playoffs remains strong. But his incident at the Cubs game reminds you that he's human, and when you've got a winning team, you really wish that he were more than that.