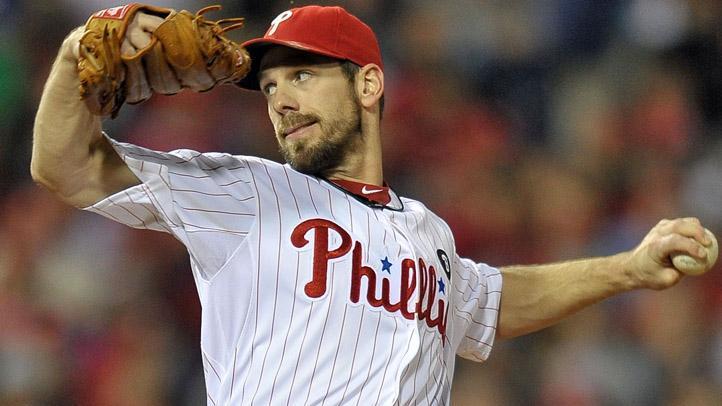 This week, Major League Baseball is announcing their yearly awards for player performance, including the Rookie of the Year, Most Valuable Player, and Cy Young. And of all the major categories, the Cy Young is the only award that a member of the Philadelphia Phillies has a chance at winning, thanks to the duo of Roy Halladay and Cliff Lee, who each have a shot at taking home the trophy.

For Halladay, it would be the third in his career, and the second in as many seasons with the Phillies, thanks to, arguably, the best season of his career. In 2011, he went 19-6 with a 2.35 ERA in 233.2 innings, where he struck out 208 while walking all of 35 hitters. Added to that is a league-leading eight complete games, as well as a NL-best ERA+ of 164. In short, Roy Halladay was very much like Roy Halladay: Steady, excellent, Ace.

However, his teammate and Co-Ace Cliff Lee may have been a tad better, if not less consistent. The 32-year-old lefty, who made his return to Philadelphia following a season in the American League, was as good as advertised. He finished with an ERA of 2.40 over 232.2 innings, where he walked 42 while striking out 238.

But for Lee, it was a tale of two seasons. In one season, he was the greatest pitcher that this city has ever seen, and in the other, he was no better than a fourth starter, an overpaid, overrated, under-performing shell of his former self. It's an exaggeration, of course, but Lee did vacillate between being unbelievable, and simply just human.
In June, he had an ERA of 0.21. In August, it was 0.45, In September, it was 1.42. Based on those numbers, his 2011 season looked to be the stuff of legends, until you look at his ERA in April (4.18), May (3.78) and July (4.91). It was a strange back-and-forth summer for Lee, who, despite his occasional struggles, still managed to outfox opposing hitters more often than not.

Although both Halladay and Lee are deserving of the Cy Young, their seasons don't necessarily measure up to that that of Clayton Kershaw's. The 23-year-old left-handed starter for the Los Angeles Dodgers blew the rest of the league out of the water, thanks to a season in which we went 21-5 in 233.1 innings, with 248 strikeouts (best in the NL) while also leading the league in ERA (2.28).

It was a breakout season for Kershaw, who has been building towards this moment since he broke into the league as a 20-year-old in 2008. And even though the Los Angeles Dodgers weren't close to punching a ticket to October and Kershaw never had to make one of those "do or die" starts where his team's post-season fortune hung in the balance, you can't deny the fact that the youngster was the best pitcher in the National League.

And while the award is still very much up for grabs (some writers will pick Halladay or Lee over Kershaw simply because their team played in October), this is an instance in which there is almost no wrong answer. All three of these pitchers were excellent, and, in any combination, should finish 1-2-3 in the voting.

Despite the fact that the homer in me very much wants to see the award stay in Philadelphia, the objective blogger in me has to give the nod to Kershaw.