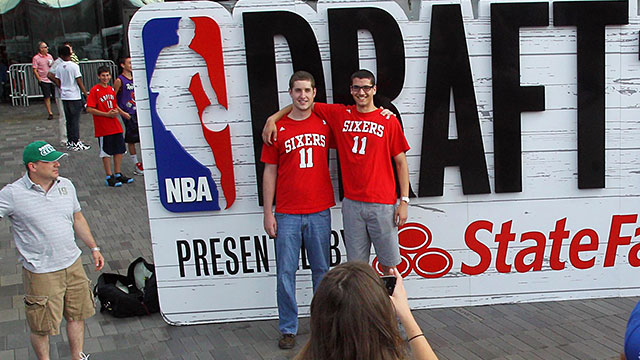 Philadelphia 76ers
Complete coverage of the Philadelphia 76ers and their rivals in the NBA from NBC Sports Philadelphia.
It's finally here. NBA draft night.
While you may think you know what the Sixers will do now that the team has moved up to No. 1 (select Markelle Fultz), that doesn't mean there won't be plenty of intrigue throughout the evening.
Here's an outline of five reasons to keep your eyes glued on the Sixers and the league's 29 other teams during the event.
Deep impact
Sure, the Sixers are likely to take Fultz. But this isn't one of those drafts in which the talent tops out at the No. 1.
This is projected to be a very deep draft class with value well into the first round and some serious finds in the second.
"While Markelle Fultz is most experts' pick as the top player, the general consensus is there's no surefire superstar - Fultz included - in this class. Realistically, there are probably a dozen guys who could end up being All-NBA players," CBS Sports' Brad Botkin said.
Busted!
While there will be All-Stars and maybe even some superstars to come out of this draft, there's also a likelihood of a few busts.
Whether it's the wrong fit, injuries or just a lack of skills to compete at the next level, several high draft picks are bound to be misses for the teams that select them.
That has particularly been the case at No. 2, as Bleacher Report's Jonathan Abrams recently pointed out.
"(Kevin) Durant dethroned The King - LeBron James, that is - earlier this month, claiming a Finals MVP trophy to go with that elusive championship ring. But most No. 2 picks never ascend to such heights; in fact, over the past 20 years, only four have even become All-Stars," Abrams said.
Yikes.
Movers and shakers
The draft picks are only half of the fun. Don't forget about the trades.
The Sixers got the pre-draft moves started by pulling off their deal with the Celtics for the No. 1 overall pick.
Things really started heating up after that. D'Angelo Russell, Brook Lopez and Dwight Howard have all been moved. And there have been 10 times as many rumored trades thrown around.
Don't expect that to stop on draft night.
"The NBA Finals just ended, the draft hasn't started, free agency has yet to begin, and it feels as if the landscape has shifted noticeably," ESPN's J.A. Adande said. "Welcome to the new swap season."
Legacies on the line
The players aren't the only ones that can start making a name for themselves at the draft. Executives have plenty to gain and lose as well.
The right move and you're untouchable in your city. The wrong decision, and … let's just say you don't want to make an incorrect choice.
With the fate of franchises in their hands, NBA execs have the power to alter the league's landscape with a single deal.
Those transactions will stick with front-office members forever, as Yahoo! Sports' Chris Mannix explained will be the case with Danny Ainge for sending the draft's top pick to the Sixers instead of snagging Fultz.
"Legacies are defined by deals like this. Ainge's will be, too," Mannix said. "His executive career is now intertwined with Fultz's playing one, forever linked. The gambling executive just placed his biggest bet, against a player few around the league would bet against."
Dress for success
Of course, the draft isn't all high drama.
There's guaranteed to be plenty of smiles and tears of joy as young men realize their life-long dream of making it to the NBA.
There may also be a few laughs, potentially at the expense of a draft hopeful's fashion faux pas.
"The fun part is sitting around with your friends and coworkers and playing fashion critic as a bunch of kids shake hands with the NBA commissioner in suits and shoes that are so outlandish that we occasionally ask ourselves how anyone allowed them to leave the boutique," CBS Sports' Kellen Becoats said.
Copyright CSNPhily