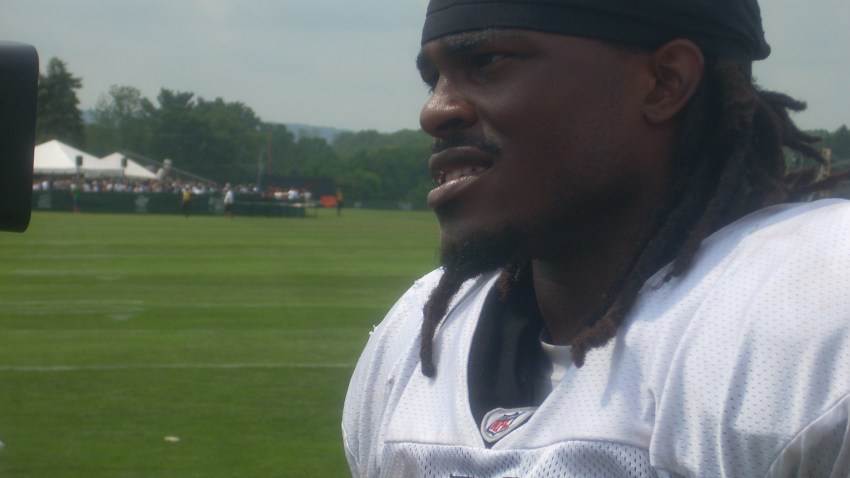 Ernie Sims is making his hard hits an almost daily occurrence at Eagles training camp.
On Monday Brent Celek was on the receiving end of a vicious Sims hit. The newly acquired linebacker knocked down the Eagles star tight end on an over the middle pattern during red-zone drills.
Head coach Andy Reid didn't look happy and said something to Sims almost immediately after the hit as Celek struggled to the sideline.
Luckily Celek claimed the hit knocked the wind out of him.
The Incredible Brent said he was OK and he returned to practice -- the same can't be said for starting running back LeSean McCoy. Shady sat out of practice Monday with a thigh contusion caused by a collision with Sims during Sunday's practice, according to the Eagles. And, Sims got to Eldra Buckley a couple times earlier in camp.
Defensive coordinator Sean McDermott expressed concern for possibly hurting teammates but also seemed happy with Sims' hard-hitting attitude.
"I want an attitude and Ernie is part of that attitude and aggressiveness, and from a defensive standpoint, when you're not playing against your teammates, you don't let them cross the goal line. But, we have to keep in mind that these are our teammates and we have to learn how to take care of one another at the same time. But, I love Ernie's aggressiveness."
There were a few other stand out moments at Lehigh Monday.
Backup running back Martell Mallett (who was handling second and third-string duties with McCoy and Mike Bell on the mend) scored on three straight red zone plays. But, he suffered what appeared to be a hyper-extended knee on the third TD and had to cut practice short.
The most exciting offense play of the day came when Kevin Kolb connected with WR Jared Perry for a long TD over backup DB David Pender. Perry joins Jordan Norwood, Chad Hall and Riley Cooper as impressive young wideouts.
The Eagles actually have too many good-looking wideouts to keep them all -- something offensive coordinator Marty Mornhinweg addressed after practice:
"I do think we're pretty deep there... there could be some tough decisions."
Other musings from Monday morning:
WR Hank Baskett looked sharp on a few over-the-middle slants patterns.
DB Ellis Hobbs and WR Jason Avant got into a spirited argument over who committed a penalty on a contested pass. Hobbs even light-heartedly checked out a fan's photo of the play to see if Avant was in the wrong. Asante Samuel made an impromptu announcement that the penalties offset.
WR Riley Cooper easily won a 1-on-1 battle against DB Trevard Lindley.
And finally had to mention that camp must be weird for specialists. At one point punter Sav Rocca, kicker David Akers and long snapper Jon Dorenbos were playing soccer on one of the side fields.