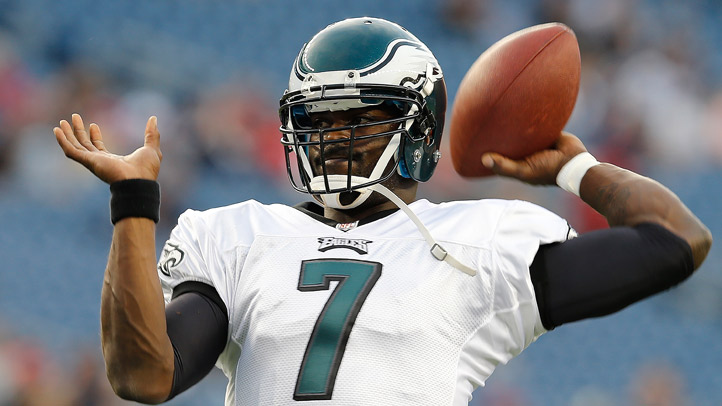 The prevailing reaction to Sunday's season opener was, "Here we go again." The Eagles won (barely), showing shockingly bad tendencies across the field. Anyone who was optimistic all offseason that the problems of 2011 were behind us was sorely mistaken.
But the more I think about the game, the more I think that narrative rings false. In fact, the team we saw on Sunday looked markedly different than last year's version -- for better and worse. This version looked like a Bizarro Birds -- comically exaggerated in some ways and a complete 180 turn in others.
All told, I may actually be more optimistic today that I was before Sunday.
Let's start, as one should, with Michael Vick. The conventional wisdom was that whatever was wrong with the Eagles quarterback in 2011 could be fixed in a few months of one-on-one tutelage with offensive coordinator Marty Mornhinweg. I was never so sure. To me, Vick looked like a flawed QB last year. I use the word flawed purposely. He certainly wasn't the elite player we glimpsed in 2010, a Superman quarterback.
In any case, for 2011 Football Outsiders ranked him 12th in passing DVOA, the second-best mark in his career -- by far -- and just a tick below his 2010 performance. Other measures were even more positive: lowest sack rate in his career and highest yards per rush since 2006, despite staying in the pocket more than ever.
Vick's biggest problems in 2011 were accuracy and turnovers, both of which reverted back toward his career averages. That alone, though, doesn't make Vick a bad quarterback -- just flawed. And they are flaws Vick is unlikely to snap out of at age 32. But the Vick we saw against the Browns wasn't merely flawed, he was broken. He posted a shocking single-game -50.7-percent DVOA, third-worst in the NFL, in front of only rookies Ryan Tannehill and Brandon Weeden (-106.4-percent LOL). Vick threw four interceptions, tying a career-worst. His quarterback rating was 51.0, worse than in all but one game he's played in the last two years.
Derek at IgglesBlog.com gave you the pessimistic scenario for Vick's problems -- that coach Andy Reid and company have actually made him worse by tinkering. There is truth there with regard to Vick's regression in 2011. He was at his best when he was playing off the cuff, taking the world by storm in 2010. But in terms of Sunday, we may have watched something akin to a statistical anomaly. It's unlikely that Vick has permanently fallen back to the realm of over-matched rookies, unable to see linebackers dropping back into coverage. You can't wave away his performance with a "rusty" tag, but what you saw is basically worst case scenario Vick. I would be surprised if he still is playing at that level next week, let alone six weeks from now.
That is, assuming the offensive line gets fixed. Bizarro Birds exaggerated Vick's flaws -- as well as the line's problems. King Dunlap is a poor substitute for Jason Peters, but he wasn't the (main) issue. There were simply too many communications breakdowns. Sheil Kapadia ran through every hit Vick took, and by my quick examination, eight of those involved either a completely unblocked rusher or one that was handed off improperly. Considering four out of the five linemen played together last year, that shouldn't happen. Nor do I expect it to going forward. Molding the line into a coherent unit is what line coach Howard Mudd gets paid the big bucks to do -- and it's an easier fix than having to replace over-matched players.
Clearly the play calling was also an issue. Why did the Eagles keep four running backs if they aren't going to use them? Take some pressure off of Vick by running more of the offense through LeSean McCoy. And if you're worried about McCoy breaking down, give some carries to Bryce Brown (or Dion Lewis or Chris Polk).
Last year, right after the Eagles fourth preseason loss, I advocated unleashing McCoy. Coincidentally, that was right after Vick played in a similarly terrible manner to last Sunday (2 TDs, 4 INTS, 315 yards passing). Marty Mornhinweg listened (or at least had the same thought), and proceeded to call Shady's number for 58 rushes over the next two games. He didn't disappoint -- racking up 311 yards and three scores. Mornhinweg and Reid aren't complete idiots. They know last week's pass-run ratio was untenable, and nearly cost them the game.
In my mind, the team's three biggest problems are eminently fixable (four, if you count an extreme number of penalties). Moreover, their biggest liability from last year -- the defense -- showed signs of improvement. Look, it's hard to draw conclusions playing against Weeden & Co. That offense looked pitiful. But Juan Castillo's defense was rock solid. They did everything they were asked to do and more.
Cleveland had the fourth-highest average starting field position in the NFL on Sunday, courtesy of the five Eagles turnovers. They were also tied for first (with the Eagles) in total number of offensive possessions (15). Despite that, the defense only allowed three measly field goals. Dominique Rodgers-Cromartie stole two interceptions (Asante Samuel who?). The defensive line stacked up against the run better than we've seen since Jim Washburn came to town. And, DeMeco Ryans put last year's linebackers to shame with his burst through the hole.
No one should expect this level of dominance from the defense against the Ravens or other formidable offenses, but it seems well on its way to competence and more. If you're looking for a reason for optimism, this is it. The offense is unlikely to be as bad as we saw in Week 1. The defense looks better than it has in quite some time.
Is it too early to talk playoffs? (Yes, for the record.)