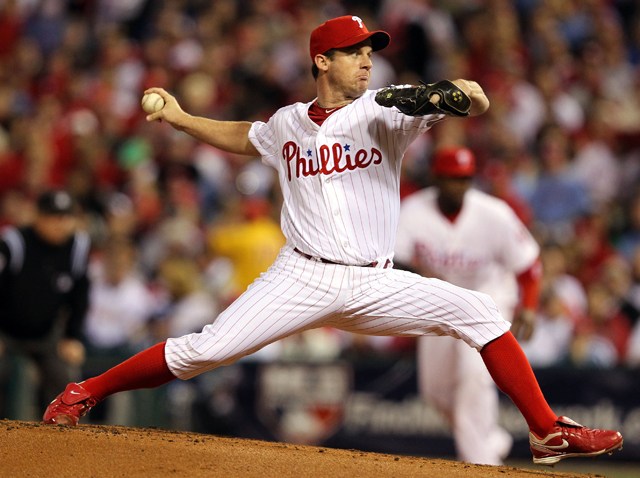 Don't look now, but a Four Aces reunion might just be in order in 2012, as Roy Oswalt reportedly threw for the Philadelphia Phillies within the last week, as the veteran looks to get back into action this season.

This news comes from Jon Heyman, who also references a tweet from Fox's Ken Rosenthal:
Accomplished righthander Roy Oswalt, who dabbled in free agency in the winter, is back again throwing for teams and considering where to go. He hopes to be on a big-league mound by about June 15, sources say.

….

Sources confirm Oswalt has thrown for the Red Sox and Phillies, as @Ken_Rosenthal reported, and that he also has at least two more teams on his throwing schedule. The Yankees are not one of the teams, sources say.


It's interesting news, and not at all unexpected. Oswalt was on the Phillies' radar in the offseason, and when he announced that he will wait until mid-season to sign with a team, it made perfect sense for the Phillies to be in the mix, for a few reasons.

1. They aren't convinced that either Vance Worley or Joe Blanton can continue to pitch like they have over the course of an entire season. That is not entirely without merit, as Vance Worley is still a bit of an enigma – although his peripheral stats would indicate that 2011 wasn't a huge fluke – and Joe Blanton is pitching better than he ever has over the course of his career. That's not to say that he won't continue to pitch well, but Roy Oswalt has a better track record.

2. Joe Blanton could be traded. There was talk about the Phillies moving the right-hander before the season began, and with each start, his value only increases, as he becomes more and more appealing to teams that would be in need of starting pitching. With Oswalt on board, Blanton becomes expendable, and the Phillies could try to extract as much out of them as they can before he hits the open market after the season.

3. Roy Oswalt is a fine insurance policy. It's a long season, and guys are going to get banged up, so having an insurance policy in the form of Roy Oswalt is a pretty solid idea. And given their luck so far this season, the Phillies might not want to take any chances when it comes to having a healthy rotation. Cliff Lee already missed some time, Worley is currently on the disabled list, and Blanton doesn't have a healthy track record over the last couple seasons.

4. This is just me spitballing, but what if the Phillies wanted to turn Oswalt into a relief pitcher to help stabilize the bullpen? He can strike guys out – which is a must have for aby bullpen – and he can pitch multiple innings due to his years as a starter. That would leave less to chance in the later innings, when the Phillies need to put a few innings together before getting to Jonathan Papelbon. It's a pipe dream, but hey, it technically could happen.

More than anything else, the Phillies are just doing their diligence and exploring every possible avenue. They might not need pitching right now, but it doesn't mean that they won't, later on. If they assume that they won't need pitching, then they aren't doing their jobs.

Is Oswalt a realistic possibility for the Phillies? I'm leaning towards no, just because they don't necessarily need another starting pitcher, unless, of course, they are hiding something regarding Vance Worley's recent elbow injury.

Whatever happens with this team, I think we can all agree that having Roy Oswalt back in the fold would be awesome. And hey, he can even play left field.
.