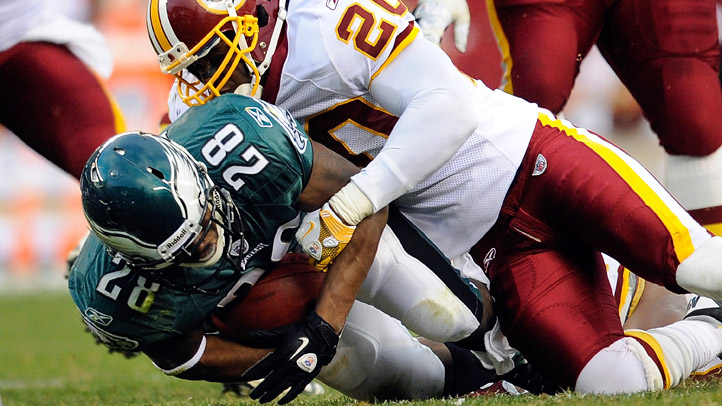 What the Eagles did: The Eagles now have five running backs and three fullbacks on the roster, yet 23-year-old LeSean McCoy is the veteran of the group. The other seven have exactly 42 regular season snaps between them — and all of them from second-year running back Dion Lewis.
Let me just reiterate: that is a staggering level of inexperience. As of this moment, the Eagles still have two open roster spots, so adding a veteran like Joseph Addai or Justin Forsett is still possible. But so far the front office has intimated that it is comfortable with a youth movement.
There's no player behind McCoy that you can look at with confidence. Dion Lewis is the only one with NFL experience, and barely so. His kickoffs were a disaster and in limited playing time he showed some burst, but no indication he can take over full time in an emergency. Instead of giving their 5'7", 2011 fifth-round pick some much needed veteran competition, the Eagles shopped at the discount store, picking up two high-profile rookies with promise as well as major reservations.
Paul Domowitch had a story about seventh-rounder Bryce Brown's college meanderings, and it can be summed up with one word: immaturity. Brown never had any legal problems, but he managed to quit on not one, but two football teams in three years. The physical tools on the 5'11", 225 lb., sub-4.4 40 back are incredible, but he's nothing more than an interesting athlete without his mind in the right place.
The other guy fans are high on is Chris Polk, undrafted free agent out of Washington. Unlike Brown, Polk was tremendously productive in college, rushing for over 4,000 yards. However, he has a huge injury question mark. Despite a draft grade as high as the second round according to some experts, Polk was clearly taken off of all 32 teams' boards. That's not good.
As for fullback, Stanley Havili is the frontrunner, having rode the practice squad all of 2012. The Eagles brought in two undrafted free agents to compete with Havili, Stanford fullback Jeremy Stewart and Massachusetts fullback/tight end/linebacker Emil Igwenagu.
What I would have done: The fliers on talented running backs are never a problem, per se. However, those players are like lottery tickets, great if you win but much more likely to end up discarded in the trash. There aren't many exciting veterans available in free agency, but I would still try to grab one for insurance — at least until Lewis or one of the other backs looks ready to step in for McCoy in a pinch. If I could do it all over I might have tried to nab Peyton Hillis as McCoy's back up back in March. After a disastrous season last year, the multi-dimensional Hillis went to the Chiefs on a cheap deal.
I also would have tried to upgrade at fullback, but that's a losing argument with this front office.
Way-too-early prediction: I'm not convinced the Eagles are sold on Lewis enough to make him the primary backup. The Ronnie Brown signing never worked, but that doesn't mean the logic behind that deal doesn't still apply. Addai or another back could still be in the cards.
Of the rest, Polk's injury concerns must be worse than we know. Don't expect anything more than injured reserve for him. There's probably not a better candidate on the roster right now for training camp darling than Brown. Graig Cooper, an undrafted pick up last offseason, will compete but no one's given any indication he's more than a camp body. Havili will probably be the starting fullback and the Eagles will stash one of the others on the practice squad.