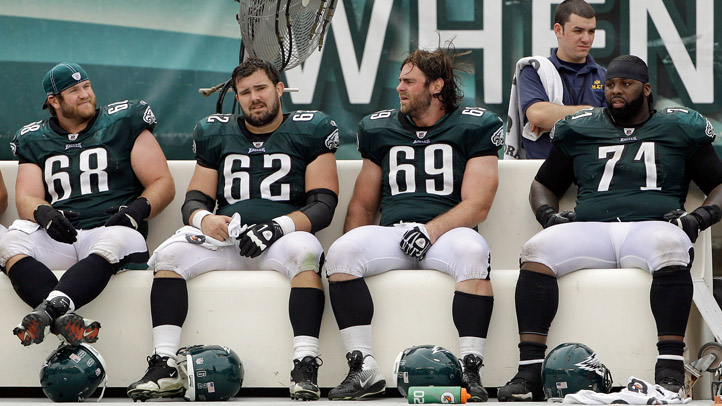 What the Eagles did: In Howard Mudd we trust.
That sentence basically sums up where the Eagles stand in relation to their offensive line right now, in thepost-Jason Peters 2012 continuity. (I like to think that somewhere out there is an alternate timeline where Julian Vandervelde, not Peters, tore his Achillies. Asante Samuel fetched a first-round draft pick, too.)
Peters had one of the best seasons for an offensive lineman that I've ever seen. He was dominant in every phase of the game. It will not be possible to replicate his performance, and the Eagles offense will undoubtedly suffer significantly from his absence. Either King Dunlap or Demetress Bell, most likely the latter, will try to step into Peters' large shoes, but we shouldn't hope for anything more than average play.
On top of that 6-foot-4, 340-pound hole, Mudd also has to turn Jason Kelce and Danny Watkins into good offensive linemen. I'm not sure that any topic inspired more argument among fans last year than the Eagles rookie linemen. There are lots of people who insist that Kelce and Watkins were above average, even worthy of Pro Bowl considerations. That's just not true, as far as my eyes and stats could tell.
Finally, there are the two starters I'm not worried about: Todd Herremans and Evan Mathis. Neither player is particularly dominant, but continued solid performance will be of paramount necessity with the rest of the line questionable.
What I would have done: Despite my reservations about the Eagles line, I don't think I would have done anything differently. After Peters' injury, Howie Roseman pounced on Bell and made sure to retain Dunlap. Neither is a sure thing, but at least there are two reasonable options in the wake of that shocking development. Long term, assuming Peters recovers, the line is locked up, so a high draft pick wasn't strictly necessary.
Way-too-early prediction: Do I trust Mudd? At the end of the day, the answer is yes, so I'm willing to be optimistic about Kelce, Watkins, and even Bell. I wouldn't be surpised, however, if Mathis falls back to earth a little bit without a dominant tackle at his side.