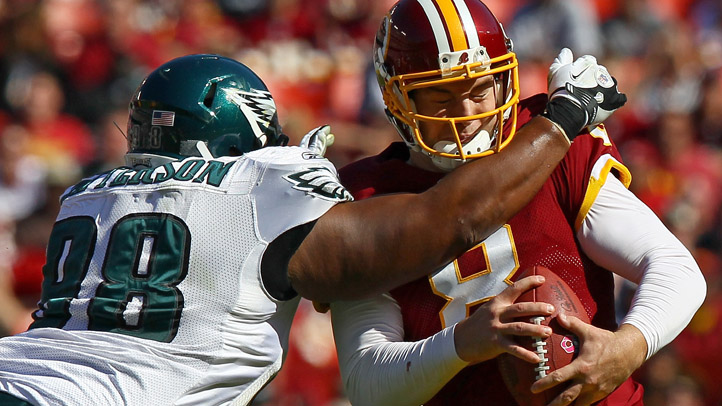 What the Eagles did: Around the end of January, I started to get the feeling that, other than linebacker, defensive line made the most sense for the Eagles in the first round. Then, as Derek Landri lingered in free agency longer than we expected and the team held a private workout with Fletcher Cox (in tandem with the Dontari Poe parade), the hints were getting stronger and stronger.
Still, I'm not sure any Eagles fan, even the most optimistic Cox supporter, necessarily expected the Eagles to snag a player who was instantly hailed as a perfect fit in Jim Washburn's system. There aren't many defensive tackles with Cox's combination of size, speed, and production. With any luck Washburn can make him into a dominating force like Albert Haynesworth was. That's not too much to ask, is it?
As to the rest of the group, let me once again put up the pass rushing stats from last year:
Unsurprisingly, Trevor Laws was let go. Although he had his moments last year, overall the former second-round pick was a major disappointment. I suppose he has the excuse of having played for three different defensive coordinators and three other defensive line coaches during his four-year tenure, if you want to throw him that bone.
Mike Patterson and Cullen Jenkins will be the starters. Both are solid veteran players, even if no one is likely to gameplan specifically for them. Jenkins' 17 sacks over the last three seasons are near the top for all defensive tackles and while Patterson has generally been more of a run stuffer, you see above that Washburn made him the 17th most effective pass rusher in the league from that spot last year. Again, Cox's ceiling is much higher, but until he's ready these two are fine in the middle.
Just like with the defensive ends, the other backup spots at tackle are up in the air. Antonio Dixon probably has the inside track to the nose tackle job. He missed nearly all of last year, but signed a restricted free-agent tender at the second-round level. Landri will certainly continue to make the most of his talents. He was tremendously productive in 2011, but got little interest in free agency. Then there's Cedric Thornton, who spent most of last season on the team's practice squad.
What I would have done: Howie Roseman on a roll. This position looks great.
Way-too-early prediction: Is it too optimistic to predict that Cox will start at least six games? Some combination of injury and ridiculous physical potential seem likely to make that happen. If not, he should at least make an immediate contribution in the rotation. As to the fourth spot, it must be Dixon's to lose, given his youth and talent. Will be interesting to see if Dixon can (a) show the spark he had in 2010, (b) adjust to Washburn's scheme, and (c) be consistent -- but I bet he'll get every opportunity to do so. Landri's probably fighting for the Eagles to keep five tackles as much as any specific other player.