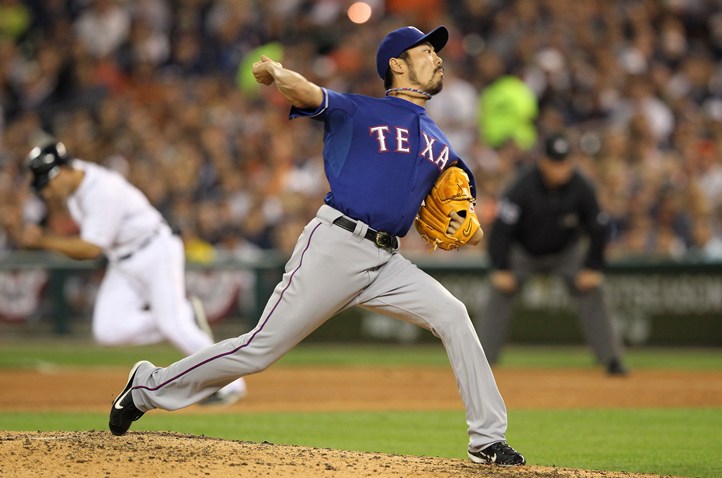 When it comes to the off-season, specifically this off-season, there isn't too much to get excited about, especially if you're a Phillies fan. With a few holes to fill and not a lot of money to spend, it presents the perfect storm for Ruben Amaro to do something very unfortunate – say, like signing Josh Hamilton – instead of making several, smaller (and smarter) moves.

But if there is one thing to hang your hat on, its the prospect of the Phillies reinforcing their bullpen, especially with low-cost, high-reward moves. Like the one that Fox Sports' Ken Rosenthal talked about on Wednesday...
The Phillies, in their search for a setup man, are asking around about free-agent righty Koji Uehara, who previously was with the Rangers.


The right-hander, who spent his career in Japan before making his MLB debut in 2009 with the Baltimore Orioles, spent 2012 with the Texas Rangers, where he had a 1.75 ERA and 43 strikeouts in 36 innings.
Adding someone like Uehara, a veteran who has been dominant in his four years in the MLB, would only serve to strengthen what is arguably the strongest part of the team. In four years in the bigs, Uehara has a 2.89 ERA in 211 innings, with a 9.8 K/9 and 1.1 BB/9. In short, he's dominated hitters from soup to nuts. One of the best tools at a pitcher's disposal is an ability to throw strikes (and not walk guys), and another is the ability to not have to rely on the opposing hitters putting balls in play. There is a reason that the best relief pitchers are the guys who can strike out a hitter at will, after all.

The addition of Uehara would mean a veteran arm in a 'pen that will be comprised of mostly young, high-leverage arms like Justin DeFratus, B.J. Rosenberg, Phillippe Aumont and Antonio Bastardo. Combined with Papelbon, the Phillies will likely have one of the best 'pens in the league, thanks to their collective ability to throw gas and rack up the strikeouts.

Even though Uehara will be 38-years-old in 2013, the upside is that he won't be terribly expensive. He earned all of $4MM in 2012, and despite his performance with the Rangers, he likely won't be commanding a gigantic salary increase. That's good news, because with a budget that is already bloated, the Phillies need to pinch their pennies every chance they get.