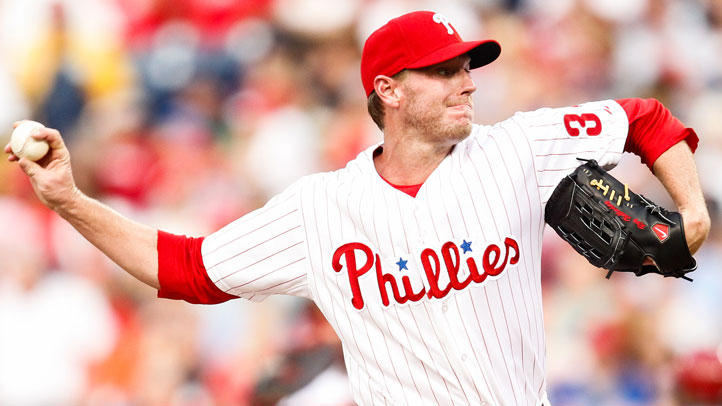 Even the most optimistic Phillies fan wouldn't try and convince you the team -- 17 games out in the NL East and 13.5 games out in the wild card on the heels of a seventh-straight loss to the Braves -- is going to make the playoffs.
As such, it might seem like a smart move to preserve ace Roy Halladay by shutting him down early. Charlie Manuel says that won't be happening.
"We're not thinking about doing that," Manuel said, per MLB.com's Todd Zolecki. "I don't have to answer that no more. He's not going to get shut down."
I love that Chaaaaaaly uses "I don't have to answer that no more" as the definitive response to a very-much arguable question. The reality is that Halladay's having a nightmarish 2012. He has a 4.02 ERA, and right now he's on pace for his first season with an ERA over 3.00 since 2007. He's struck out just 77 in 96 innings. He hasn't thrown a complete game.
And it's not like his stint on the disabled list helped things, either: Halladay's 1-1 with a 4.13 ERA since coming off the DL. The logical reason for shutting him down should be obvious -- let him get healthy and rested for 2013.
Then there's the whole matter of his contract: Halladay has a $20 million vesting option for 2013 that becomes automatically guaranteed if he meets three requirements. One, 225 innings pitched in 2013. Two, 415 innings pitched in 2012-13 combine. And three, he can't be on the disabled list to end 2013.
Items 1) and 3) are up in the air, obviously, but it's unlikely that Halladay will end up hitting 1) if he's on the DL to end 2013. 225 innings is a lot of pitching and requires a full season of starting games to hit.
No. 2 is much more spicy with relation to this year: Doc needs to hit about 175 innings this year if he wants to make it reasonable to get the 415 total for the two seasons combined, assuming he can pitch 240 innings next season. He's at 96.1 this season, which means that 12 more starts of six innings each (reasonable, no?) gets him right about where he needs to be.
So take any arguments about why Doc "needs" to keep pitching -- even if they come from pitching coach Rich Dubee and make sense -- with a grain of salt. There's $20 million on the line and there's a very fine line in terms of how much pitching Doc has to do this year if he doesn't want to put that goal out of reach.
"My goal right now for Roy Halladay is pitch on a regular basis and get back to being who he used to be," Dubee said. "He's fought some injuries. He's developed some bad habits. He's got these two months to hopefully wean himself off those bad habits and retrain himself. That's why it's important for him to pitch. He's healthy. He's felt stronger than he has in a long time. He's got to retrain himself so he gets back into that proper arm slot."
But there's also a built-in counter-argument in what Dubee's saying here. Shouldn't Doc be shut down exactly because of his messed-up arm slot and the bad habits he developed this season? It's not like they have to call the dogs off right away and end his season tomorrow or anything, but if the Phils aren't going to have a prayer at the playoffs they don't have to keep him around either.
Let's say he goes out there against the Cardinals in a few days and gets shelled ... are the Phils just going to let him try and wriggle his way out of jams without concerns? And is he just simply going to throw up batting practice to hitters as he figures out his arm slot?
"You try [changing your form because of injury] for five months," Dubee said. "Try doing anything for five months. Walk upside down for five months, then try to walk the right way. It's going to take you a while to break that bad habit."
Exactly! You're telling me that Doc is going to go out there and figure out his mechanics during live-action baseball, tweaking his arm slot while trying to avoid getting shelled? If he's already there, fine, that's one thing. But messing with this stuff during a lost season where he's already suffered injury is a recipe for disaster (it reminds me of the Vikings trotting out an already-injured Adrian Peterson in Week 17 of 2011 ... and AP suffering a torn ACL in the first quarter).
Let the guy get healthy, figure out his mechanics and re-work his habits and reload for 2013. It sure sounds like the more prudent move.