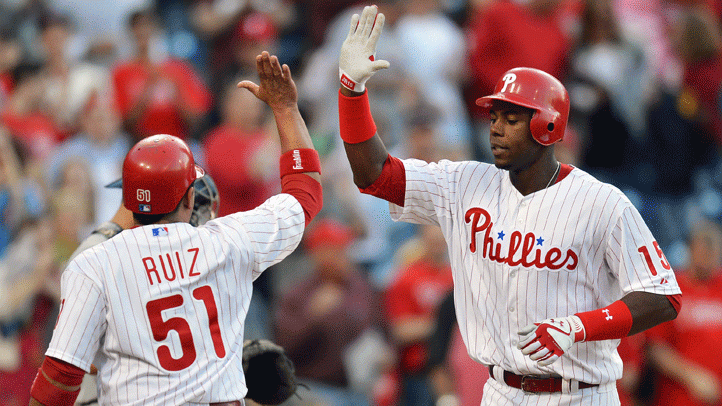 Carlos Ruiz went 3-for-3 with a homer and three RBIs and John Mayberry Jr. homered and drove in three runs to lead the Philadelphia Phillies to a 7-3 win over the San Diego Padres on Friday night.

Vance Worley (3-2) allowed three runs on six hits, striking out nine, in six innings to help the Phillies snap a three-game losing streak.

Placido Polanco had a pair of doubles for Philadelphia, which was playing its first game after manager Charlie Manuel's much-publicized team meeting on Wednesday with the slumping five-time NL East defending champs who entered Friday four games below .500.

Yonder Alonso homered for San Diego, which lost for the eighth time in the last 11 meetings with the Phillies.

San Diego left-hander Clayton Richard (1-5) gave up five runs on eight hits in 5 1-3 innings.

Mayberry gave Philadelphia a 2-0 lead in the second inning by following Ruiz's infield hit with a liner over the wall in left.

The Padres tied it in the fourth on consecutive RBI singles by Alonso and Jesus Guzman, but were robbed of at least two more runs by Ty Wigginton's diving stab of Andy Parrino's liner down the first-base line with the bases loaded for the final out.

Wigginton, whose error two batters earlier allowed the bases to be loaded with one out, was fully extended when he fielded the ball on one hop and stepped on first to rob Parrino of at least a double.

Ruiz put the Phillies ahead 4-2 with an opposite-field, two-run homer in the fourth.

Alonso's one-out solo homer in the sixth to deep right pulled San Diego within 4-3.

But the Phillies got the run back in the bottom of the inning on Freddy Galvis' double to left that scored Mayberry.

And Philadelphia scored twice more in the seventh on RBI singles by Ruiz and Mayberry to take a 7-3 lead.

San Diego finished with 14 strikeouts, including five of the last six batters.

Padres catcher Nick Hundley went 1-for-4 after doubling in the ninth and now has three hits in his last 32 at-bats. Backup catcher John Baker is hitless in his last 18 trips, giving Padres catchers three hits in their last 50 at-bats.

Copyright AP - Associated Press