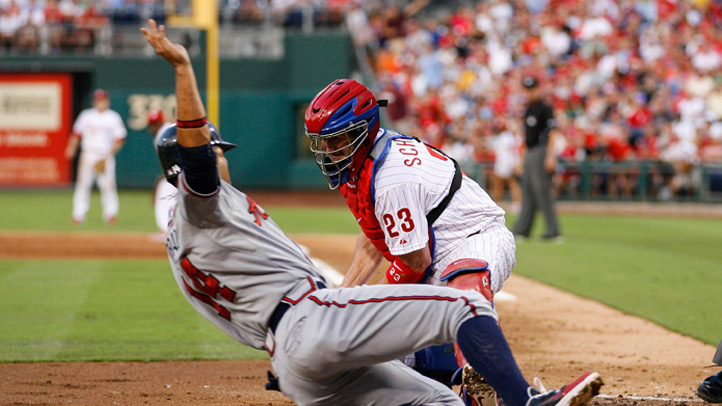 It's been over three years, but the Phillies finally had unsold tickets to Citizens Bank Park, which put to bed the longest sellout streak in team history, at 257 consecutive games. News of this came during the seventh inning of Monday night's game against the Atlanta Braves, when the Phillies announced a paid attendance of 41,665, which is nearly 2,000 shy of the park's capacity of 43,500.
The streak started on Tuesday, Ju;y 7th, 2009, in what would be a 4-2 loss to the Cincinnati Reds. Since then, it's been a standing-room-only kind of place, with nary an empty seat to be found anywhere in the park. Of course, some still remain skeptical about those figures, because it was fairly obvious on some nights (most of them happening this season) that the park was not packed. But so long as the tickets were sold, that is all that mattered.
It was the second longest active streak in the Majors and third longest overall, trailing only the Boston Red Sox, who have sold each home game at Fenway Park dating back to May 2003 and the Cleveland Indians who had 455 sellouts from 1995 to 2001.
More than anything else, the streak was the result of perfect timing. The Phillies had a core of players – including Jimmy Rollins, Chase Utley, Ryan Howard, and Cole Hamels – who were at their peak, an infusion of cash that allowed them to be contenders on the field as well as in the open market, plus a team that was fresh off a World Series victory. Combine all that, plus Ruben Amaro's ability to bring in guys like Cliff Lee, Pedro Martinez, Roy Halladay, and Roy Oswalt, and you have a sellout streak on your hands.
With their performance this year, it was only a matter of time before fans stopped showing up in droves. It's hard to blame them, because at this point, they are watching a team with nothing left to play for. After all, a playoff chase is about as good as it gets.
But let's take a look back to when the streak started, just to get an idea of how different things were...
-The lineup on the first night of the streak: Jimmy Rollins (SS), Shane Victorino (CF), Chase Utley (2B), Ryan Howard (1B), Jayson Werth (RF), Greg Dobbs (LF), Pedro Feliz (3B), Carlos Ruiz (C), J.A. Happ (P).
-Cliff Lee was playing for the Cleveland Indians.
-Roy Halladay was playing for the Toronto Blue Jays.
-"Ice Age: Dawn of the Dinosaurs" was the number one movie in America.
-Chase Utley was in the middle of a season in which he would play 156 games, while hitting 31 homers with a .905 OPS.
-Carlos Ruiz was in the middle of a season where he hit .255 with nine homers.
-Cole Hamels had a 4.90 ERA through 16 starts and was the target of much derision from the fans. Think about that for a minute.
-"The Dark Knight Rises" was still three years away.
-The Washington Nationals were on their way to a 103-loss season. And that Bryce Harper fella? He was in high school.
My, what a difference three years makes.
It's unfortunate that the streak had to end like this, but I suppose that it had to end sometime. Now all that's left for the fans, and the Phillies, is to go out there and start a brand new one.