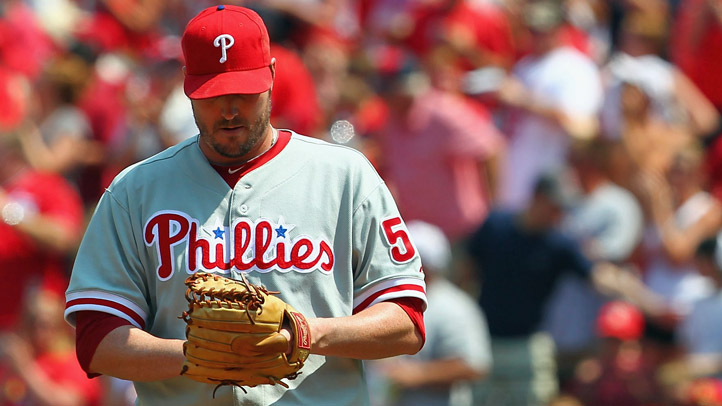 Chad Qualls' days with the Phillies appear numbered a day after a parade of Phillies relievers failed to hold the offensively-challenged Pirates at bay.
The right-hander was designated for assignment Thursday -- the morning after he gave up three runs in the eighth inning of the Phillies' 11-7 loss Wednesday night after the Phils had battled back to cut the Pirates' lead to just one run.
Qualls getting DFAed was the surprise among a slew of roster moves the Phillies made before Thursday's matinee game.
Qualls, 33, was supposed to be a steady force in the Phillies bullpen, after inking a one-year, $1.15-million deal in the offseason. The veteran hurler came to Philly fresh off a 77-appearance season with the Padres where he posted a respectable 3.51 ERA.
He started out gangbusters -- giving up no runs in his first six appearances of the season. But since, he has struggled big time, posting a 5.68 ERA with a .333 batting average against in his last 29 appearances. Overall Qualls went 1-1 on the season with a 4.60 ERA and 1.53 WHIP in 35 games.
With injuries to Jose Contreras and Michael Stutes and with Kyle Kendrick filling in for injured starters, Qualls was the only righty in the Phillies pen with major league experience besides closer Jonathan Papelbon.
Also gone from the roster is lefty Joe Savery. The reliever was sent to Triple-A after being rocked for five runs on five hits and two walks over 2.2 innings Wednesday night. Savery went 0-2 with a 5.87 ERA and 1.43 WHIP over 23 innings for the Phillies this season.
Qualls and Savery getting the boot opened up the bullpen door (literally) for righty Brian Sanches and lefty Jeremy Horst.
Sanches, 33, pitched in three games earlier this season for the Phils, getting rocked to the tune of a 11.25 ERA. The righty is in his second stint with the Phillies franchise having pitched for the Phightins in 2006 and 2007.
The Phillies traded Wilson Valdez to the Reds for Horst. The 26-year-old posted a 2-1 record and 2.11 ERA with two saves for the IronPigs this season.