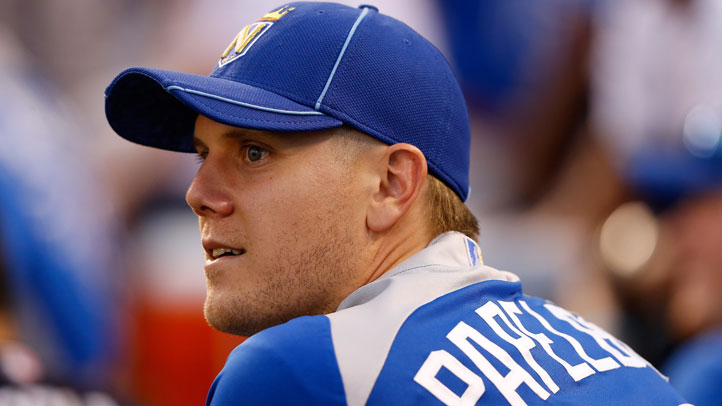 On Tuesday, several Phillies will (possibly) take the field for the 2012 MLB All-Star Game. Let's take a look at how they might do.
Carlos Ruiz
Ruiz is a lock to take the field, because he's one of only two catchers on the roster (unless I'm totally missing something here). So that could mean that he'll catch the second "half" of the game -- or maybe whenever kuckleballer R.A. Dickey enters the game (so it could come a little bit earlier if Matt Cain struggles or Tony LaRussa feels guilty).
TLR picked Cain to start the game in part because Buster Posey won the vote to start for the National League. He feels like Ruiz provides a better defensive option for the knuckleballer, given that he'll a) have time to warm up with Dickey, and b) Ruiz is known for his defense.
"I'd rather catch it then hit it," Ruiz told CSNPhilly.com about Dickey's knuckleball.
"For the most part, you have to be more relaxed. It's hard to explain," Ruiz said Monday, per C. Trent Rosencrans of CBSSports.com. "You feel like you have to be relaxed -- if you try to reach for a ball, that's what you're going to have trouble. You have to let it come to you."
So as for what to expect from Chooch, well, any offense would be a bonus if he can somehow ensure that Dickey doesn't give up 10 earned runs with balls flying past home plate. (This is pretty unlikely -- Dickey's not even a Tim Wakefield type. But still.)
Cole Hamels
The logical move for TLR would be to bring in Hamels after Dickey. That means Hamels and Ruiz can play together, which gets LaRussa through at least four innings of action and allows him to pair another pitcher and catcher from the same team together.
This would be the fourth time in MLB history that a battery of Phillies played together in the All-Star Game: the last being Heathcliff Slocumb (remember him) and Darren Daulton in 1995.
Hamels only time pitching in the All-Star Game was a single inning in 2007. I'll predict he gets an inning, two strikeouts and no hits. Although TLR could just completely hold him to spite Zach Greinke and the Reds pitchers. That would be amusing.
Jonathan Papelbon
If you believe in TLR spiting the Cardinals, then Paps is a good bet to close the game -- he, Aroldis Chapman and Huston Street are the only three closers. Paps has three innings pitched in All-Star Game history, allowing just two hits, striking out five and picking up one hold ... and no saves.
I'm a Senior Circuit sucker, so I'll pick the NL to win, based primarily on a much better group of pitchers. It'll be a close game, though, so a save will be needed.
Paps will get that save and then cartwheels, Chapman-style, off the mound as he celebrates a victory in the All-Star Game.
Unfortunately, the home-field advantage won't end up helping the Phillies this season.